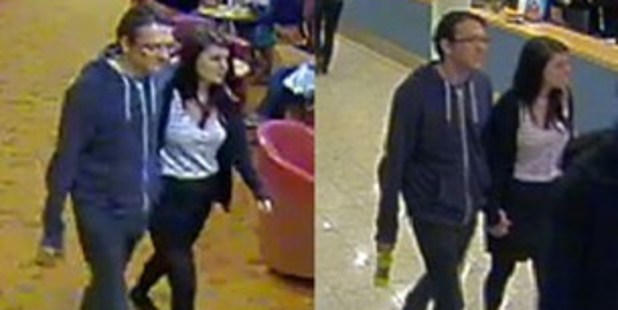 Police have released a CCTV image of a missing British schoolgirl and her 30-year-old teacher on board a ferry to France.
Megan Stammers, 15, boarded the Channel ferry with her maths teacher Jeremy Forrest late last week after he spent months grooming her to escape on an "adventure" with him.
It has emerged that Megan posted a message on Twitter in July saying: "I just want to runaway forever", to which the teacher replied: "Me & you. :-) Let's just run away".
Her parents have issued a heartfelt plea for her to return, with stepfather Martin Stammers telling media: "It's been hell. We have no idea where she is".
Sussex Police Chief Inspector Jason Tingley said a photo released today of the pair walking hand in hand on a ferry travelling from Dover to Calais would aid British and French police searchers.
However, he acknowledged the pair may have already fled France.
"We are releasing this photo to show Megan and Jeremy's appearance at the time they travelled to France as we believe it will improve the public's ability to recognise the pair together," Mr Tingley said.

"Although they entered France, it is possible that they are elsewhere now. Therefore our objectives are to identify where they are and for them to contact us, so we can bring Megan home safely."
Worried friends of the teenager say they reported concerns about the close releationship between the pair to another teacher after returning from the five-day visit to Los Angeles in February.
But despite the alert, Forrest was able to continue grooming Megan before fleeing the country with her last week.
Yesterday the schoolgirls mother said she had been completely in the dark about the relationship.
She and Megan's stepfather broke down yesterday as they made an emotional appeal for the teenager to come home, and it also emerged that:
- Forrest has been under investigation for several months and was expected to be suspended last Friday, the day after the pair vanished.
- Megan had been receiving after-school maths lessons from Forrest.
- One of Megan's friends received a text message from her on Friday saying she had arrived safely in France, the last known contact with her
- Forrest even wrote a song for the young girl "Better Company" which referred to the hand-holding incident
Forrest and Megan have not been seen since they boarded a ferry from Dover to Calais on Thursday night in the teachers black Ford Fiesta.
Staff at their school raised the alarm after they failed to turn up to class the following day.
A friend of Megan's at the Bishop Bell C of E School in Megan's hometown of Eastbourne, East Sussex, yesterday told how the teenager started seeing Forrest as early as January and was really excited about the relationship.
The 15-year-old friend, who spoke to the Mail at her home with her mother present, said: "They would always text each other. He would send her messages saying things like I miss you and I can't wait to hug you."
She said one of their friends, a pupil who had been on the trip to LA, decided to report the pair after sitting behind them on the ten-hour flight and spotting them holding hands.
"She thought the behaviour was inappropriate as he is so much older and her teacher," the friend said.
"We are really angry the school did not do enough to protect Megan and now no one knows where she is or if she's coming back.
"I don't know how it all started with Mr Forrest, but to begin with she was really excited about it.
"She would tweet about being in love and show us his texts. But after it was reported she stopped and then deleted her Twitter account. She never spoke about it after that and she didn't tell any of us that she was leaving. She probably knew we would stop her."
Megan's friend said Forrest, who performs in a band in his spare time, wrote a song for the teenager in April and sent it to her after posting it on his MySpace page.
In it, he sings: "Sitting on the plane, we were miles away from the things you hate, but girl I'd do it all again, I'd hold your hand, put up with the friend, don't think that I won't."
He also sings about loving the schoolgirl's hair and the way she talks.
Megan's friend, whom the Mail has decided not to name, said that Forrest would cover for Megan so she could avoid being punished.
She said: "On the trip a group of students including Megan got in trouble for messing around but Mr Forrest said Megan wasn't with them and she got out of it."
Interpol, the UK Border Agency, the British Embassy in Paris and the French authorities are all working to help trace Megan.
The schoolgirl's friend added: "Were all really worried that even if she wants to come back, she might not because everyone is talking about her. We just want her back safe."
The friend's mother, who also lives in Eastbourne, said she was concerned that the school had not acted earlier, adding: "The girls have said that one of them reported it to a teacher, surely someone should have done something."
The father of the pupil who reported Forrest said he was concerned by how the school had dealt with the matter and would be taking up his concerns with the local authority.
A spokesman from East Sussex County Council admitted that the school had been aware of concerns about the teacher's relationship with Megan but refused to confirm when these were first raised.
He said: "The investigation was on-going when she went missing. The school, in conjunction with the county council and the police, had been addressing concerns that had been raised on this matter."
However, Sussex Police said they had only been made aware of the issue last week.
Child protection campaigner Lucy Duckworth, who is due to launch a new charity See Change next week, said the apparent failure to protect Megan was extremely worrying, adding: "There needs to be a thorough investigation into what has happened at this school."
Forrest, who grew up in the US but moved to the UK as a teenager, has been married for a year to his wife Emily, 31. The couple have lived in Ringmer in East Sussex since 2009, and neighbours say they frequently row.
"I want to run away forever"
Forrest and Stammers had a series of emotional exchanges on Twitter in the weeks before they fled Britain.
Megan wrote an online 'bucket list' of things to do before she dies - and ticked off 'fall in love' and 'have someone write a song about me'.
On her Twitter account, she also wrote: "I'm Megan. Don't call me that though. I prefer Meg or Megzy... Currently working towards being a musical theatre actress. I adore music, high fashion, art, photography, blogging, tattoos, make-up, graphic design, travelling, writing, reading and Marilyn Monroe."
She used Twitter for intimate exchanges with Forrest.
On June 2, he wrote: "I am with the most beautiful & amazing person in the whole entire world who i love with all my heart yet someho w I manage to f*** it up."
She tweeted on the same day: "I am getting too used of (sic) things going perfect, then something just messing it up... hence why I am automatically set up for disappointment."
On June 27, she tweeted: "I just want to runaway forever.' Forrest tweeted that day: 'Me & you. :-) Let's just run away."
On June 30, he wrote: "Lovely girl you're the beauty in my world. Without you there aren't reasons left to find."
She tweeted: "Hello baby, you are perfect... Trying to cure my bad mood by thinking about the future and all the things and plans I have for it. I need this year to be over already."
On July 1, Megan tweeted: "I just want to get on a train/in a car and go somewhere with you."
She added: "Bored/tired/hungry/looking gross."
On the same day Forrest tweeted: "I want to go everywhere with you baby, & for the record you never look anything less than absolutely beautiful..."
- Daily Mail and nzherald.co.nz