Anger in states, lift in polls and dwindling popularity of opponent combine to give Labor leader a chance.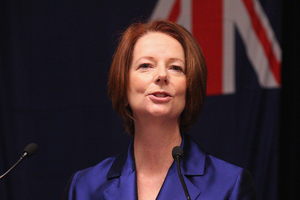 Prime Minister Julia Gillard was in Queensland rousing the battered Labor faithful at the weekend, after their pounding at the hands of new Liberal National Premier Campbell Newman.
Gillard's appearance at the state Labor conference was not just one of lifting the local party off the floor. Queensland is central to her own hopes of retaining power at next year's federal election, and polling has consistently sent a message of doom for her prospects there.
There was comfort in the fury directed at Newman after he sacked 14,000 public servants, slashed funding and programmes, infuriated unions, voters and miners, and added momentum to a steep personal dive in the polls.
But this remains essentially Gillard's war, and one that she will be waging both against opposition leader Tony Abbott and restive forces within her own party: Kevin Rudd, the leader she ousted, is still stalking the shadows.
Time is also of the essence. Gillard survived the dangerous winter break, but now has to regain the confidence of her party within the next few months. If a change in leadership is to occur, the party would far prefer it to come before Christmas to allow it to regroup and load up for an election it can push back until November.
Newman's slash-and-burn budget has given Labor a potent message: Queensland is just a prelude to the shocks Abbott has in store if he wins.
Similar problems for Abbott have been emerging in New South Wales, another key state, where Premier Barry O'Farrell also announced huge spending and job cuts. O'Farrell added further fuel by suggesting increase in the rate and range of the GST, which Abbott rapidly stomped on to dodge any collateral damage.
The omens now appear to be turning in Gillard's favour. Vilified for her axing of Rudd and subsequent backflip on the carbon tax, and hammered by a series of other calamities, the Prime Minister has looked like a dead duck for most of the past two years.
Labor had languished anywhere between six and 16 points behind the opposition in the Australian's Newspoll since February.
This week the wind changed dramatically. Newspoll reported a continued climb in Labor's primary vote sufficient to place it 50-50 with the Coalition in the two-party preferred vote that decides Australian elections. This caught everyone's attention. Gillard was back with a vengeance.
But the election is still a long way off, and a trend back to Labor is far from certain. Even on a 50-50 split the votes need to fall in the right places.
Gillard needs more than this if she is to defeat Abbott and govern in her own right. Two key independents supporting her minority Government, Rob Oakeshott and Tony Windsor, might not survive next time round.
Further, while Nielsen polling in Fairfax newspapers this week also showed a rise in Labor's fortunes, it was not large enough to push the Government into the lead: it still trailed the opposition 53 per cent to 47 per cent on a two-party basis.
The latest Morgan poll is even less generous, still giving the Coalition a 53.5-46.5 per cent two-party lead.
But the ground appears to be shifting in Gillard's favour. Abbott's unremitting attack on the carbon tax has lost most of its steam and even blown back in his face: miners and electricity companies deny it has played any significant role in their present troubles, and voters appear to be accepting it.
Gillard has also pushed hard on key suburban concerns, with the new national disability insurance scheme, education reforms and health. The economy is looming as a problem, but Gillard has been able to shift much of the blame for job losses, strikes, rising costs and cuts to services back on to the states.
And the big eastern states have been helping out. While support for their conservative governments remains strong, there has been slippage and the standings of Premiers O'Farrell, Newman and Ted Baillieu have taken hard blows.
Queensland's scorched-earth budget coincided with O'Farrell's A$1.7 billion ($2.1 billion) cut to education, with the loss of 1800 jobs. Electricity bills will rise again, and O'Farrell has been unconvincing on plans to revamp transport and the road network.
Victoria has also taken the axe to education funding, Baillieu's law-and-order platform is buckling under rising crime rates, and massive strikes by teachers and firefighters - also facing cuts - have hit hard. Polls suggest Baillieu's one-seat majority is at risk.
Historically, state trends have little real impact on federal politics. But there is mounting evidence that the impact is being felt.
Labor's surge in the polls, combined with a plunge to record lows in Abbott's personal standing, has thumped the Coalition. Abbott's success was rooted in his aggressive negativity, rather than in any positive policy moves of his own.
Labor has also capitalised on new claims that Abbott physically intimidated a rival student politician in his university days, adding to the portrait of misogyny that opponents have painted of him.
Never a popular leader, and disliked by many within the party, Abbott now faces his own woes. This week's Nielsen poll showed that 63 per cent of voters, including a majority of Coalition voters, would prefer the man he ousted, Malcolm Turnbull, as opposition leader.
Gillard also has to shake the shadow of Rudd, who has been surfacing prominently in what some commentators believe is preparation for a challenge. But while Nielsen said a Rudd Government would outpoll Abbott, his lead over Gillard as preferred Labor leader has almost halved to 18 per cent in the past three months.
If the polls continue to swing to Gillard and Labor, it seems likely the Prime Minister could still be in the seat, with improved chances, at the next election.