Text messages used to spread word of Sydney protests against anti-Islamic video.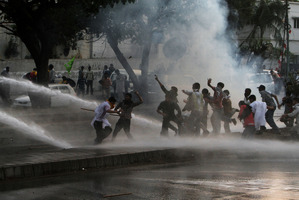 Senior members of Australia's Muslim community were meeting in Sydney and Melbourne last night to try to head off any repeat of the violent weekend protests in Sydney's CBD.
Police and Muslim organisations are concerned about fresh violence following Saturday's clashes with police during protests over an anti-Islamic internet video.
Nineteen people were injured including two police and six people were charged.
About 200 people gathered at Sydney's Town Hall and then in Hyde Park to voice their disgust at the short video, The Innocence of Muslims, which had been posted on YouTube.
Saturday's rally quickly turned violent with capsicum spray fired at a number of protesters - some of whom held signs reading "Behead all those who insult the Prophet".
Members of the Lebanese Muslim Association and the Islamic Council of New South Wales are among those who fear new violence.
The two groups were meeting in Sydney to discuss ways to defuse tensions.
The Islamic Council of Victoria was arranging a meeting of imams and community leaders in Melbourne to prevent the violence spreading.
Campaigns have sprung up on social media websites urging members of the Muslim community not to engage in violence.
Saturday's violence was reportedly arranged by text message, and police and Muslim leaders are now trying to establish the source.
Sydney Lebanese community spokesman Keysar Trad said he received a text message on Friday urging recipients to "come and defend the honour of the Prophet" in Sydney's CBD.
He said he did not know who sent the message and condemned the resulting violence.
"This was the dumbest thing that young people could do - all they've done is publicised a film that doesn't deserve to be publicised," he said.
Samir Dandan, president of the Lebanese Muslim Association, told the ABC he also did not know the source of the messages. "So far we've spoken to many different people to see if they know who these guys are. These are the types of guys who tend to move from one group to another group - that's not to say that that is their strategy."
Outraged members of Sydney's Muslim community told police about the text messages before the protest.
Six men were arrested after the clashes that broke out as protesters targeted the United States consulate in Martin Place.
While police had been unaware of the planned time for the demonstration, New South Wales police commissioner Andrew Scipione said members of the public told police about the incendiary text messages.
"Many of them were sent to us by people within the community who were outraged by what they were receiving on their SMS system or on their Facebook page and so they brought them to our attention." Scipione said police were ready for another possible protest this weekend.
But he downplayed comments from his deputy, Nick Kaldas, that police were caught unaware, having prepared for a Sunday rally.
"The reality is that we had some information coming in. We had a range of officers strategically staged throughout the city."
He said the protest organisers had not made an application to hold a demonstration but "intelligence was made available to us which allowed the city to start preparing and to bring officers in".
The US Ambassador Jeffrey Bleich said he feels safe in Australia and has no intention of bowing to demands by a radical Muslim group to leave the country.
- AAP