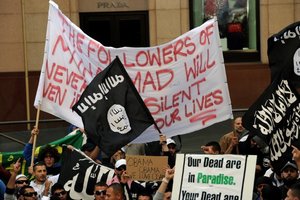 The violent Muslim protest in Sydney was the work of a lunatic fringe, Foreign Minister Bob Carr says.
The former NSW premier said he was dismayed that the actions of an angry minority could tarnish the reputation of Australia's wider Muslim community.
"It's a more nuanced story and we've got to think about the hurt and the pain of Australian Muslims, loyal Australians, when they saw that stupid and dangerous and repugnant lunatic fringe - 100 of them, a mere 100 of them - on Saturday night's TV,'' Senator Carr told ABC radio.
He echoed Prime Minister Julia Gillard's shock at children holdings signs calling for people who insult Prophet Mohammed to be beheaded.
Senator Carr said the clashes outside the US consulate in Sydney's CBD on Saturday undoubtedly sparked debate and soul-searching about the different faces of multiculturalism in Australia.
"It concerns me deeply, and I understand the response of Australians - those of Islamic heritage, those of other backgrounds - who look at the sights and hear the sounds of that demonstration and think, 'why do you linger in Australia? There would be other countries where you'd be happier, where you'd be more fulfilled','' he said.
The fracas followed protests around the world sparked by the film Innocence of Muslims, which was produced in the United States and portrays the prophet Mohammed as a fraud, womaniser, homosexual and madman.
Senator Carr admitted to feeling bewildered by Saturday's violence.
"The talk of beheading, for example, is the talk of people who will never be comfortable with the Australian democratic tradition.
"I just feel pained and bewildered at what that demonstration represents.''
NSW Premier Barry O'Farrell warned against a repeat of what he labelled the "unacceptable face of multiculturalism''.
"The message is that if they do it again they should expect to be arrested, they should expect to be hauled before the courts,'' he told Macquarie Radio on Monday.
Asked why riot police did not use the force's water cannon to quell the protesters, Mr O'Farrell said: "I would have thought a water cannon would have been a sensible approach on Saturday.
"But I'm not going to run, and I shouldn't be running the operational side of the police.
"I'm happy to pick up the phone to (Police Commissioner) Andrew Scipione again today to make it clear to him that he has my full support for taking the strongest possible action when we see the sort of violence we witnessed in our city on Saturday.''
- AAP