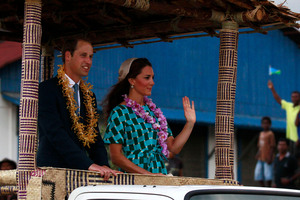 Prince William and wife Kate were greeted by huge crowds as they landed in the Solomon Islands yesterday evening, while a row raged in Europe about topless photos of the Duchess of Cambridge.
Pacific warriors gave the royal couple a ceremonial welcome as they touched down in the capital, Honiara, as part of their nine-day Southeast Asian and Pacific tour to mark the Queen's Diamond Jubilee.
Thousands of locals lined the route from the airport for a glimpse of the pair as they passed on an open-top truck.
At the city's St Barnabas Cathedral, they were special guests at a jubilee thanksgiving service, marred by a brief power outage as the congregation waited for the generator to kick in.
Later, after calling briefly on Solomons Governor-General Frank Kabui, William and Kate were to be treated to a traditional island feast in the gardens of Government House.
Excitement had been building for days in the Solomons, where the couple have two days of engagements.
It is the first stop of the Pacific leg of their jubilee tour, which has already taken them to Singapore and Malaysia, where Kate made her first public comments on foreign soil.
During a visit to a Kuala Lumpur hospice, she spoke briefly about the need for palliative care.
Tomorrow, she and William will move on to tiny Tuvalu.
In London, a spokesman for St James's Palace said the royal couple "remain focused" on their tour despite the furore after French magazine Closer published paparazzi snaps of Kate sunbathing in just her bikini bottoms by a swimming pool while on holiday in France.
William and Kate, both 30, are suing Closer for invasion of privacy over the images, which were reprinted yesterday in the Irish Daily Star and are set to be published today by Italian gossip magazine Chi.
The palace condemned the "greed" of the Irish newspaper and warned Chi that it would cause "unjustifiable upset" were it to proceed with its 26-page special edition on the photos.
- AAP