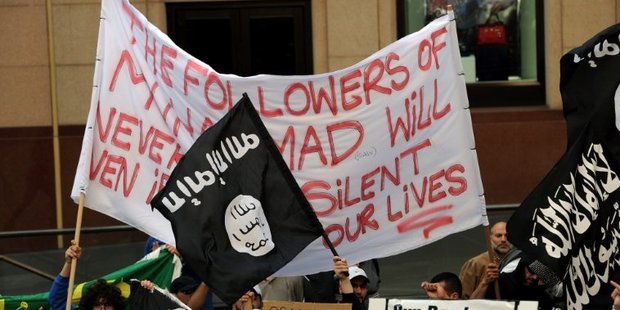 Police in Sydney are reportedly searching for the source of a text message that sparked a violent protest in the city against an anti-Islam film.
Hundreds of protesters jammed central Sydney in violence that left six police and an unknown number of demonstrators injured when crowds were pepper-sprayed and forced back by horses and dogs.
The text message, reading "They have mocked him in pictures and now mocking him in a movie, why are we allowing this'', is believed to have been sent by a computer, News Limited reported this morning.
It is also understood, Fairfax reported, that police had received some text messages circulating on Friday night, that called for people to "defend the honour of our prophet''.
A police spokesman, however, was unable to confirm the reports.
Police will today continue tracking violent protesters as officials, Islamic leaders and community organisations work to prevent rifts opening after the protests over Innocence of Muslims.
The confrontation, in which bottles and rocks were hurled at police and patrol cars were damaged, met with an uncompromising response from New South Wales Premier Barry O'Farrell and Police Commissioner Andrew Scipione.
"If you want to act like you are extremist criminals, we will treat you like you are extremist criminals," Scipione said, warning against further similar protests.
Prime Minister Julia Gillard also condemned the violence.
"This kind of conduct has no place on the streets of our country.
"I also want to say very clearly, I do not want to see in the hands of anyone, particularly children, offensive signs that call for the killing of others. This is not the Australian way."
Images of children carrying signs urging the beheading of those who "insult the Prophet", and other slogans such as "Obama, Obama, we love Osama" infuriated many Australians.
It also triggered alarms over a potential renewal of the tensions that erupted into the 2005 Cronulla riots that saw white Australians and young Lebanese attack each other in a bloody series of confrontations.
Underlying tensions between Muslims and other Australians have surfaced periodically through conflicts and acts of terrorism overseas, and from a continuing sense among many Muslims that they are targeted unfairly by police and security agencies.
Islam has 476,000 followers in Australia - the nation's fourth largest religion - and in Sydney they comprise more than 3 per cent of the city's population.
Many are migrants or the children of migrants, with a large population under 30, a large percentage of low-income households, and high rates of unemployment.
Studies have shown a widespread sense of isolation with the young, especially, perceiving police as unsympathetic and biased against them.
Despite a large number of programmes aimed at closing cultural and religious divides, mutual distrust continues.
A major study last year found that almost half of Australians were "negative" towards Muslims, and 40 per cent believed Australia was undermined by people of different ethnic origins "sticking to their old ways".
But police were careful to say that Saturday's violence had been triggered by a small number of "extremists".
Speakers at the rally urged protesters to be peaceful, and Islamic leaders widely condemned the violence.