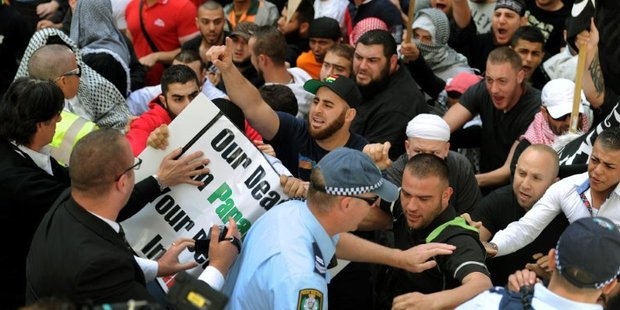 Police have fired tear gas at protesters in Sydney's CBD today after a demonstration against an anti-Islam film became unruly.
About 200 protesters carrying banners gathered at Sydney's Town Hall before moving to the US consulate, which is housed in a Martin Place building.
The banners had slogans such as "Behead all those who insult the Prophet" and "Our dead are in paradise, your dead are in hell"
The group grew bigger as it moved towards Market Street and George Street. When protesters became unruly, with some throwing bottles, police moved in.
Tear gas was fired and police dogs were used to control the crowd.
The group has ended up in Hyde Park with more than 100 police forming a ring around them.
It is the latest in a spate of protests at embassies in the Middle East, Africa, London and elsewhere over a film that ridicules the Prophet Mohammed.
The film, Innocence of Muslims, has been condemned by governments across the world, including the White House.
Speaking to the crowd, one protester said, "We love Mohammed more than ourselves and more than our wives."
Another protester, Abdullah Sary, told AAP the gathering was part of a worldwide protest covering Asia, Africa and western Europe.
"We are here to rally in protest about what they have said about the Prophet Mohammed," he said.
"We say that America should not play the role of supporting this movie.
"The prophet is more beloved than my family, my wife, my mother and myself, so if someone says this, you can see how upsetting it is."
He said he had not seen the film, but understood it mocked the prophet.
-AAP