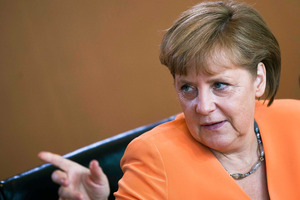 Has Angela Merkel turned into a female equivalent of Don Corleone, the sinister Mafia boss Marlon Brando played in The Godfather? A prominent female member of the German Chancellor's ruling party, the Christian Democratic Union, is convinced she has - and she's not joking.
A withering attack on Germany's first female leader has been delivered in a new and savagely critical book that accuses Merkel of ruining the euro, being obsessed with political power and installing an autocratic regime bordering on the totalitarian.
The Godmother: How Angela Merkel Is Reconstructing Germany is the work of the veteran Christian Democrat Gertrud Hohler, 71, a prominent and outspoken conservative who was an adviser to Chancellor Helmut Kohl, and on the boards of several major Swiss and German companies.
Hohler argues that because Merkel was brought up in communist East Germany, she has no real understanding of democracy and is convinced that only remaining in power is paramount.
As a result, Hohler claims, Merkel has muzzled all critics and dispensed with political rivals by sidelining or stabbing them in the back.
"That woman has already installed an autocratic regime," she said.
Hohler's savage criticism could be dismissed as the anger of a piqued former rival venting her envy on someone who has made it to the top. But, significantly, publication of The Godmother has coincided with attacks on the Chancellor from other leading members of the conservative Christian Democratic Union, suggesting that the author may have a point.
Josef Schlarmann, the party's influential business expert, lambasted Merkel for stifling all criticism: "There are no fundamental debates any more because everything in Merkel's party is presented as being without alternative. It is like being in a school cafeteria that offers only one dish a day."
In The Godmother, Hohler argues that Merkel's obsession with power has led her to ignore political convictions and principles to guarantee her own political survival. Hohler has touched a nerve but, if anything, Merkel's brand of power politics appears to be working. The latest opinion polls suggest she has regained her position as Germany's most popular politician. Her conservatives have also recovered from a popularity slump and now have a fighting chance of winning next year's German general election. For the time being, no one appears to be planning to replace "The Godmother".
- Independent