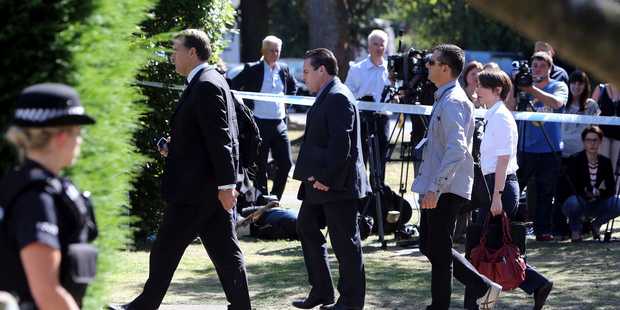 The investigation into the killings in the French Alps was extended to Switzerland and Italy.
Annecy public prosecutor Eric Maillaud said it was possible that the killer, or killers, had fled to Switzerland, only one hour away, or to Italy, 90 minutes away.
British and French police began their search of the Surrey home of Saad al-Hilli, who was shot dead with his wife, an older woman and a French cyclist. French authorities also revealed that all four victims were shot twice in the head at close range. Previously, investigators had spoken of one shot to the head.
But Maillaud said autopsies showed that each of the victims had been shot at least three times, including two shots "directly into the head". He refused to say how many guns had been used and of what type. He had hinted earlier that investigators now believed that there were two or more killers.
Al-Hilli, 50, was killed in his car alongside his dentist wife, Iqbal. An older Swedish woman travelling in the car also died in the shooting, as well as Sylvain Mollier, 45, a French cyclist who apparently stumbled across the attack in Chevaline. The couple's 4-year-old daughter, Zeena, lay undiscovered under her mother's skirt for eight hours, while her 7-year-old sister, Zainab, remains in a medically induced coma after being shot and beaten. Zeena was expected to return to Britain today.
Four senior gendarmerie detectives, who arrived in Britain on Saturday, held a "strategy" meeting with British police yesterday morning. The seniority of the French team suggests that investigators are convinced that the solution to the mystery of the savage killings will be found in Britain.
The delegation is led by Colonel Marc de Tarle, the most senior gendarmerie detective in France. Later, two of the French officers observed while police searched the al-Hilli home at Claygate, Surrey, for any document that might offer an explanation for the killings.
One theory is that shots could have been fired during a bungled armed robbery, with Mollier being a witness to the crime. But speculation about other possible motives, including a pre-planned attack by professional hitmen, remained rife.
Police plan to look at aspects of al-Hilli's life to try to find a motive for the murders and also to speak to his brother, Zaid Hilli, who lives in Chessington, near Claygate.
Widespread suggestions - supported by quotes from a letter written by al-Hilli in 2011 - have referred to apparent ill-feeling between the brothers over their late father's estate. Zaid has denied this. AFP reported last night that he was to be questioned again by police today.
Maillaud said two mobile telephones had been found on the bodies. They were being checked to discover whether they contained messages suggesting that the al-Hilli family had been lured to an ambush.
The prosecutor said the family had visited France before and it was not the first time they had been to Le Solitaire du Lac campsite.
Professional hit?
For: Killing of all adults; relatively small number of bullets fired; fatal head wounds; speed of the whole incident; swift getaway; killing of cyclist bystander.
Against: Bullet cases left at scene, beating of 7-year-old girl (who was shot in shoulder, not the head). Motive absent - so far.
Mistaken identity?
For: As above, but the al-Hilli family not the intended victims.
Against: As above, but hard to imagine anyone mistaking such a group for another target.
Robbery?
For: Number of similar incidents in France.
Against: Savagery of shootings excessive for robbers; victims not obviously wealthy, nor known to be carrying large sums of money.
Attempted abduction?
For: Presence of older daughter outside car, wounded but not dead.
Against: Killing of all adults who might have paid any ransom.
Political killing?
For: Al-Hilli's Iraq connections, involvement in businesses which could relate to defence interests.
Against: Such defence connections pure conjecture; savagery; killing of other adults and serious injuries to one daughter. Al-Hilli British resident for more than 30 years.
- Independent, AFP