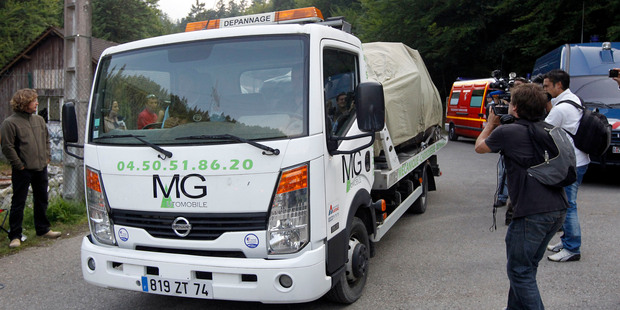 Investigators in to the murders of a British family in the French Alps are pinning their hopes on the wounded 7-year-old girl, as their probe appeared to make little headway.
Prosecutor Eric Maillaud said police hoped the girl, who is in a medically induced coma after being shot and badly beaten in the attack, would be able to shed some light on the mysterious murders.
"She is a key witness," he said. "We hope that she will be able to tell us what she went through, provide us with descriptions of the murderer or murderers."
Prosecutors are also investigating if a family feud over money could have been the motive for the brutal slayings. The brother of the man killed in the attack has denied any such dispute to British police.
French police have so far failed to make much progress in the investigation. Saad al-Hilli, a 50-year-old Briton born in Iraq, his wife Iqbal and his 74-year-old mother-in-law were gunned down in a forest carpark in an Alpine tourist area.
Their 7-year-old daughter Zainab was left for dead and their 4-year-old daughter Zeena survived the attack, hiding undetected for eight hours under her dead mother's skirts.
A local man, 45-year-old Sylvain Mollier, was also killed after apparently stumbling on the attack.
Maillaud revealed that Hilli was "totally unknown" to British and French intelligence services.
It was unclear when the elder daughter might be able to be questioned, he said. "She is still under medical protection. The doctors have not given a green light for her to be interviewed," the prosecutor said.
He added that she was "doing better" after surgery and was "out of danger".
Maillaud said a former Royal Air Force pilot who found the victims within minutes of their deaths had seen a "green or other dark-coloured four-wheel drive car".
He said 4-year-old Zeena had been unable to help investigators, adding that officers had to be "extremely careful about the declarations of a traumatised little girl".
She had confirmed the identities of her family and was being cared for by child psychology experts. She was due to be returned to England soon, he said. Results from post-mortem examinations were due yesterday and DNA samples from Britain have been requested.
French authorities have opened two criminal investigations into the shooting, one for the pre-meditated murders of the four victims and the other for the attempted murders of the two child survivors.
Maillaud said three French police officers were in London to oversee co-ordination with British police.
Authorities unblocked access to the site of the killing in Chevaline on Friday but few signs remained of the incident, other than some broken glass, tyre tracks and small traces of blood.
In Britain, bouquets of flowers were building up outside the family's spacious home in Claygate.
"They were a lovely, lovely family," said one of a group of tearful mothers whose children attended the local primary school with the two girls.
- AAP