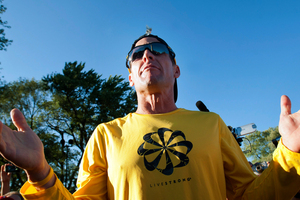 A Wellington man who worked as Lance Armstrong's personal assistant has told why he believes the former seven-time Tour de France winner is a drug cheat.
Mike Anderson, who now runs a bike shop in Upper Hutt, has detailed his time with Armstrong in a long article published by American Outside magazine on Friday.
Originally from Austin, Texas, Mr Anderson was Armstrong's personal assistant between 2002 and 2004. He says he was close to Armstrong and his then-wife and children.
Approached by APNZ today, Mr Anderson said that part of his life was behind him and he did not wish to talk about it any more.
But in the magazine he claims to have seen evidence of Armstrong's doping, while acknowledging it was not "dramatic" proof.
Mr Anderson said he and his wife were sent to Spain to clear Armstrong's flat of anything associated with his ex-wife, before the cyclist and his new partner, singer Cheryl Crowe, arrived.
He claims that as he was clearing out the place he found a prescription box in the medicine cupboard "that sent everything spiralling".
"I knew what it was. Not exactly at first, but I sensed from my rudimentary knowledge of medicine that this box shouldn't be in the bathroom of a professional cyclist.
"The label said Androstenedione. I looked it up on a laptop computer Armstrong had given me months before. I was searching for valid reasons why he would have this substance, a banned steroid. There were none. I put it back and did my best to forget about it."
Mr Anderson said he didn't say anything to his boss, but he sneaked another look in the cupboard the day after Armstrong arrived in Spain and saw the box was gone.
Following the discovery Armstrong started acting differently, Mr Anderson claims.
"He was all business and would remain that way from then on. I think he knew what I knew, and he knew I didn't approve."
Mr Anderson said that within months he had been fired, and alleges Armstrong was unwilling to fulfil a verbal agreement made when he hired him.
The pair had agreed that once Armstrong's cycling career ended he would invest in a bike shop that Mr Anderson would run and Armstrong would be affiliated with, Mr Anderson claims.
That never happened, and an undisclosed agreement was finally reached outside of court.
"During the two years of my employment with Armstrong, I'd fulfilled my end of the agreement. I did more than required of any mere employee. I'd been his confidante, minder, protector, and more. For that, I got nuked," he told American Outside.
The US Anti-Doping Agency last month erased 14 years of Armstrong's career and banned him from cycling for life after he dropped his opposition to allegations of doping. Armstrong, who retired a year ago, denies ever taking banned substances.
Mr Anderson said he was speaking out because he wanted Armstrong to come clean. He said people needed to understand that Armstrong was not, and never had been, a victim.
Mr Anderson moved to New Zealand in 2006 because there was "little chance of repairing the damage to my reputation in Austin".
"Oddly, what earned me permanent-resident status was my experience as a bike mechanic, which at that time was on the list of jobs that needed to be filled," he told American Outside.
"Sometimes I look back at my old decisions with regret. I'm still in the bike business, but until now I've been hesitant to let anyone know what my past contains - fully aware that, in the polarised world of cycling, doing so would earn me respect from some fans and hatred from others.
"In the absence of any benefit from my time with Armstrong - the moral and ethical lessons notwithstanding - I'm in the same place as before. Geographically, of course, I'm as far removed from Lance Armstrong as possible. And that's the one part of this story that feels pretty good," he concluded.
- APNZ