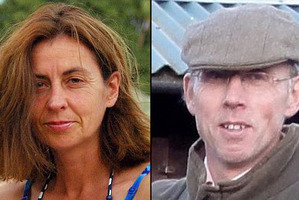 A Christchurch-based engineer threw himself to his death four days after he failed to save his wife from a fatal fall during a family holiday in Morocco, an inquest in London has heard.
At the time of their deaths, Roger and Mathilde Lamb's 19-year marriage was "on a knife-edge" amid financial concerns and disagreement about leaving England to start a new life in New Zealand, the Daily Mail reports.
Mrs Lamb, known as Tilly, slipped out an apartment window and fell to her death during the night on August 17 last year.
The family, including their children, had been staying in a rented apartment in the coastal Moroccan town of Essaouira.
Four days later, a grieving Mr Lamb leapt to his death at a nearby hotel.
It was Mr Lamb's second suicide attempt following his wife's death, an inquest into both deaths heard last week.
He had previously walked into the sea wearing a rucksack full of rocks but was rescued and taken to hospital.
Coroner David Ridley ruled Mrs Lamb, 43, died an "accidental death" and Mr Lamb, 47, committed suicide after seeing his wife fall, the Daily Mail says.
One of the couple's children told the inquest they woke to find the apartment filled with police on the night their mother died.
"I asked my dad what happened and he said that mum had fallen out of the window to her death," the child said in a statement.
"He said there was a lot of banging going on downstairs and mum had gone to the window in the living room to see what it was.
"She had stood on the sofa and put her foot on the wooden railing across the window and had then fallen.
"Dad said he had rushed to stop her but hadn't managed to catch her feet and she had fallen."
The family originally denied reports the couple had been arguing at the time of their deaths.
But the inquest heard they had spoken about divorce and disagreed about relocating to New Zealand where Mr Lamb worked as a structural engineer.
Mrs Lamb's sister, Charlotte Sebag-Montefiore, said Mr Lamb was "unbelievably well" the morning before he committed suicide.
"He went upstairs to go to get his swimming stuff. He just seemed a lot more positive," Mrs Sebag-Montefiore told the inquest.
"I stayed downstairs to have a cappuccino when a receptionist screamed 'madam'. We ran out and he was lying at the bottom of the stairs."
The coroner ruled the names, ages, gender and number of the Lambs' children could not be reported, the Daily Mail says.
- APNZ