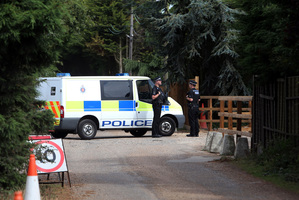 Essex police have called off the search for a lion on the loose - believing the reported beast was "a large domestic cat or a wildcat".
Two police helicopters and about 30 officers - some armed - scoured the region after a "lion" was seen in fields off Earls Hall Drive in St Osyth, near Clacton, on Sunday night (local time).
Essex police advised people in the village, a popular seaside summer destination, to stay indoors, while Colchester Zoo experts were shown a photograph taken by a member of the public and believed the loose big cat was a lion.
However at 2pm Monday local time (1am Tuesday NZT), police called off the search, after finding no evidence of the big cat.
"We believe what was seen on Sunday evening was either a large domestic cat or a wildcat," a police spokesperson said.
"Extensive searches have been carried out, areas examined and witnesses spoken to; yet nothing has been found to suggest that a lion was in the area.
"We would like to thank the local community and holidaymakers for their patience and support throughout the past 24 hours as the police and media presence would have been somewhat overwhelming for them."
Many who saw the cat were adamant it was a lion.
"It was one million per cent a lion," Rich Baker told the Daily Mail.
"It was a tan colour with a big mane, it was fully grown, it was definitely a lion. It was just standing there, it seemed to be enjoying itself."
Stephen Atkin, who was camping with his wife, Gill, on Earls Hall Farm, told the Daily Telegraph it "definitely looked like a female lion or a tiger", however his wife doubted it was the African big cat.
"Everyone said 'it is a lion' but I knew it wasn't a lion as its ears were too pointy. It was more sphinx-like than a lion."
Sarah Forsyth, a rhino curator at Colchester Zoo who was called into the St Osyth area to help police, told the Guardian it was "more likely to be a dog".
"By the time we got there whatever it was had gone. We were shown some photographs, but they were from very far away, very poor quality and to be honest there was no way of saying 'yes' or 'no''," Ms Forsyth told the paper.
"I think it's unlikely [it was a lion]. I think it was more likely to be a dog. It certainly wasn't a male lion. It didn't have a mane."