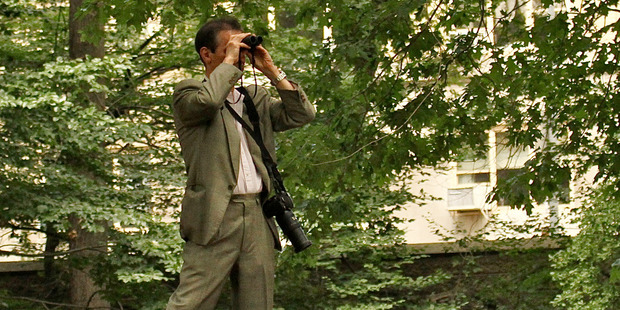 He had lost his job at a women's clothing and accessories importer across from the Empire State Building more than a year ago.
Yet every morning the shy 58-year-old would emerge from his Upper East Side home in the same tan suit and melt unnoticed into the Manhattan rush. His was a kind of invisibility that is hardly rare in great metropolises like New York.
He never had guests in his modest flat on East 86th St. Nobody could recall seeing any girlfriends, or indeed any friends at all. He did, however, find solace in watching the birds and ducks in nearby Central Park.
On Saturday, however, Jeffrey Johnson broke his routine. Instead of heading to McDonald's as he had every day since being laid off and returning home half an hour later, he went to his old place of work, Hazan Import.
Johnson drew a pistol from a canvas bag, identified a former work colleague crossing the street, approached him and shot him in the head.
Stephen Ercolino, 41, a vice-president of Hazan against whom Johnson had seemingly held a long-time grudge, fell instantly to the ground. Johnson then shot him again and walked away, hoping again to vanish.
But two construction workers who had witnessed the killing rushed after him as he turned left on to Fifth Avenue, past the entrance to the Empire State Building, where they alerted police.
Authorities confirmed yesterday that all nine bystanders caught in the crossfire when Johnson was killed were wounded by two police officers who had never fired their weapons on duty.
Officer Craig Matthews fired seven times and Officer Robert Sinishtaj fired nine times. Based on ballistic tests and other evidence, "it appears that all nine of the victims were struck either by fragments or by bullets fired by police", Commissioner Raymond Kelly said.
It is now for the public records and a few neighbours to define Johnson. We know about his years in Sarasota, Florida, where he studied art and where he bought his gun. After moving to New York, he got the job at Hazan in 2005. He had a cat, was very neat and talked to very few people apart from the birdwatchers.
Aside from the finding of a website filled with fantasy drawings of curvaceous women, fighter planes and fast cars, those few people who had even noticed Johnson were left to wonder what they had missed. The usual question arose. How could a man who looked so ordinary, have done so terrible a thing?
- Independent, AP