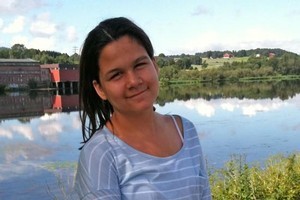 The mother of a New Zealand-born girl killed in last year's Norway massacre said the 21-year jail sentence handed down to mass murderer Anders Breivik comes as a "victory to our beloved''.
The youngest of Breivik's victims was New Zealand-born 14-year-old Sharidyn Svebakk-Bohn, whose New Zealand mother, Vanessa, sat through every day of the trial and yesterday's sentencing.
Outside Oslo's district court, Vanessa told media last night the sentence was a "relief''.
Her daughter was not politically active, she just wanted to spend the weekend with her friends, she said.
"As you can imagine with most 14-year-old teenage girls, the idea of going away to summer camp without mum and dad appealed to her more than staying at home babysitting. And not to mention there were a lot of cute guys as she said to us before she left. She was a typical teenage girl.''
On Twitter later in the day she said, in Norwegian, that "the verdict in the 22 July case is a victory for democracy and a victory for our beloved! Today we set a finish line on the court regardless of the outcome.''
The Oslo district court ruled yesterday that Breivik was sane when he killed 77 people, most of them teenagers, in separate attacks on government headquarters and a summer camp for young members of the governing Labor Party on Utoya Island on July 22 last year.
The 33-year-old right-wing extremist was found guilty of terrorism and premeditated murder and was sentenced to Norway's maximum sentence of 21 years behind bars.
His jail sentence can be extended for as long as he is considered dangerous to society, and legal experts have said that he would probably end up spending his entire life behind bars.
Sharidyn, a young Maori girl who spoke fluent Norwegian, was attending the camp for the first time when she became Breivik's youngest victim, just days after she turned 14.
Sharidyn's grandmother, Fran, married Norwegian Brynjulf Svebakk, and their families divided their time between the two countries ever since.
Sharidyn was born in Palmerston North in 1997 and returned to New Zealand regularly for holidays. She was of Ngai Tuhoe, Ngati Whatua Ngati Tuwharetoa and Ngati Kahungunu descent.
After the sudden death of Fran's husband a few years ago, she moved back to New Zealand with her younger children. Vanessa remained in Norway.
Fran remembered her granddaughter as an inquisitive little girl who loved to sing, draw and make crafts.
During the sentencing Breivik tried to issue an apology to his "fellow nationalists'' that he did not kill more people, but one of the judges stopped him.
As he left the court he saluted to the packed court room.
Breivik's lawyer has said he will not appeal the sentence.
- APNZ