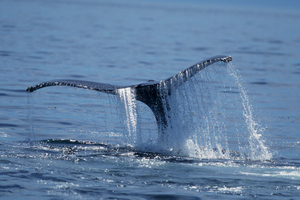 A boatie has leapt into the sea off Brisbane to free a whale trapped in a shark net.
Peter Brown has told the ABC he called authorities but after waiting half an hour, decided he had to act to save the distressed 12-metre mammal.
He grabbed a kitchen knife and used it to cut away nets that had entangled the whale off North Stradbroke Island early on Wednesday.
"Eventually it seemed to swim away from all the ropes and the buoys that were tangled with it," he said.
"And very slowly, and in a very groggy fashion, it swam away. And then the two lads who'd been called already came and followed it out and made sure it was OK."
Comment has been sought from the fisheries department.
Shark Control Program Manager Jeff Krause, from the Queensland Boating and Fisheries Patrol, said the whale had breached and became entangled on a shark drum line.
He said the Marine Animal Release Team was notified and responded immediately.
"However, a nearby yacht owner jumped overboard and cut the rope before they could get there," he said.
"While this is a great result for the whale, we would strongly discourage people from approaching a whale caught in shark control gear.
"It can be an extremely dangerous situation if the whale becomes agitated."
Mr Krause said the whale was a juvenile, about eight to nine metres long.