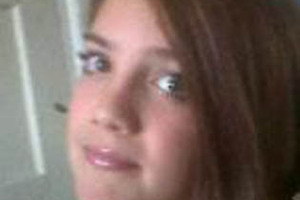 Police investigating the disappearance of 12-year-old Tia Sharp said they had found a body at her grandmother's house in south London.
Scotland Yard launched a murder inquiry following a detailed search of the property this afternoon.
Police also said this afternoon that they were searching for Stuart Hazell, the partner of Tia Sharp's grandmother. They warned the public not to approach him.
A spokesman said: "We are seeking to find Stuart Hazell to be interviewed in connection with this case.
"He should not be approached and if seen people should call 999 immediately.
"There have been no arrests in connection with this investigation at this time.
"The family of Tia Sharp has been informed of the discovery."
Police announced that a body had been discovered a few hours after they began a forensic search of Christine Sharp's house.
In an interview with ITV news yesterday her partner Stuart Hazell had issued a plea for Tia to come home.
Hazell, who was interviewed by police as a witness on Wednesday - but then released, had told police that Tia had set off for the Whitgift Centre in Croydon last Friday, having spent Thursday night at home with him while her grandmother was at work.
He also said another witness had seen Tia leave the house, but this sighting has not been confirmed.
Referring to the finger being pointed at him, he said: "Well if they believe what they read in the papers they can believe whatever they like cos I know deep down in my heart that Tia walked out of my house, she walked out of there.
"I know damn well she was seen walking down the pathway, she made her way down that track, what happened after that I don't know and I wasn't the last person to see her cos that was the one walking down the pathway."
He dismissed claims that his father had contradicted his version of events.
His father, Keith, earlier claimed that his son had walked her to the tram stop.
Mr Hazell said: "My dad likes a drink, he's got good intentions but he said everything back to front.
"If I'd have walked her to the tram stop I would have come with her to Croydon then none of this would have happened."
A cordon was placed around the house this afternoon and forensics officers were seen entering the property.
Tia Sharp's grandmother had previously been driven away from the estate by police.
Before she left, Mrs Sharp said that Tia's mother, Natalie, was "in bits" and that she did not know where she was as "she needed to get away".
She said: "We've all done our own little separate bit and Stuart's out doing that now."
Asked what he was doing, she said: "I don't know, I don't know where he is.
"Whatever way he is, he has had it hard. He knows the finger has been pointed at him. He knows this and it's been really hard for him."
Between 80 and 100 officers were involved in searches for Tia, including of the woodland near Tia's grandmother's house.
But the house itself was not fully searched until today.
A number of locals had gathered near the property this afternoon and the crowd grew in number following the news that a body had been discovered in the house.
Alston Millington, 32, said: "Personally, I was hoping she had a bit of trouble at home and had run off, rebelling against the family maybe.
"I was hoping she would be found somewhere with somebody.
"It is very hard to get out of Addington without being seen in either a car, tram or bus.
"It is such sad news.
"I live just around the corner and can't believe it.
"I think it's disgusting.
"Everybody around here knew she wasn't far from the house.
"It makes me sick."
Croydon Central MP Gavin Barwell praised the support offered to the family by the local community, describing the discovery of the body as "a huge blow".
He said: "The police have yet to formally confirm that the body is Tia's, yet this devastating development will come as a huge blow to her family and the community in New Addington, all of whom have worked tirelessly to try to find her over the past week.
"The police and forensic teams now have a serious job to do and I ask that we all please allow them to get on with trying to close a case which has, in such a short period of time, affected so many of us in Croydon and around the country.
"Despite the sad end to an emotional week, I want to praise the community in New Addington for their relentless dedication to trying to help their neighbour's family.
"So often in times of tragedy come inspirational displays of community.
"Our thoughts and prayers are with the Sharp family, the community of New Addington and everyone affected by this tragedy."

- INDEPENDENT