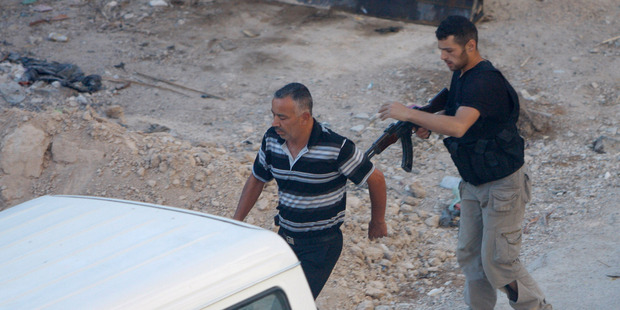 The pitched battle for Syria's oldest city was edging closer to its ancient heart yesterday, with skirmishes flaring near world-renowned landmarks and once impregnable pillars of state control.
Monuments and security buildings stand cheek-by-jowl in Aleppo, a city of huge importance to the Syrian uprising, where a grand, 1000-year-old citadel stands not far from a much-feared interrogation dungeon.
Yesterday jets were bombing the centre of the city, barely 1600m from the citadel.
Rebel groups claim that, after two weeks of bitter fighting, the city of almost 2.5 million people and linchpin of regime authority is almost within their reach.
However, as rebel reinforcements continued to pour in from elsewhere in the country ahead of an expected push early this week, regime troops were also bolstering defences in areas they continue to hold, primarily in the west and centre of the city.
The rebel force of about 6000 fighters is being countered by a regime force thought to comprise at least double that number as well as large numbers of the loyalist Shabiha militia, many of whom come from Aleppo and have sworn to defend the city.
Rebel forces have advanced from the northeast and were trying to dislodge loyalists who were fighting them on the approaches to the Maysaloon district. Capturing this would open access roads to the city centre, where the fighting flared yesterday.
It would also, potentially, open a way for rebels who maintain a foothold in the southwest of the city to link up with the new arrivals.
Rebel groups say they plan to target the air force intelligence headquarters, among the most feared authorities in Syria's extensive security apparatus.
Many of the Aleppo-based rebels claim to have spent time in the building's solitary cells and torture rooms.
Other fighters said getting a foothold in the heart of the city would be difficult. "It could be another three to six months," said Hussein Shmaili, a police captain who defected.
Resting in a house on Aleppo's outer limits, Firas Abu Ayoub said: "The Shabiha are running the checkpoints. They are tough and they are nasty and they want revenge for Zino Berri."
Berri, allegedly the chief financier and organiser of the Shabiha in Aleppo, was captured with his two sons on Thursday and gunned down following a brief show trial.
Mobile phone video footage of the executions is being widely shared among rebel groups now advancing on Aleppo. Some rebel commanders are well aware of the damage the executions have done to their cause.
Major Abu Mohammed al-Asmar took the Observer to meet a group of regime prisoners captured in a battle a fortnight ago. All were housed in a classroom on the top floor of a school.
"We were holding them before the Berris were caught," he said. "And they have been treated like kings." The prisoners, among them three junior Alawite officers and a Shia sergeant, slept on mattresses alongside captured Sunni conscripts. All said they would return home if freed.
- Observer