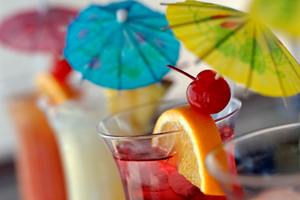 A 19-year-old backpacker suffered permanent visual impairment after drinking a cocktail containing methanol in Indonesia.
Her case, following earlier deaths from methanol poisoning, has prompted emergency doctors to repeat warnings against drinking alcohol of unverified origin in South East Asia.
The young woman arrived in New Zealand 35 hours after consuming eight to 10 complimentary cocktails containing a mixture of arrack and fruit juice.
She was suffering shortness of breath and sought help when her vision began to fail.
"Although she survived, she has been left with permanent visual impairment," the College for Emergency Medicine said today, summarising a report on the woman's case in the college journal by Drs Paul Gee and Elizabeth Martin.
Indonesian arrack killed numerous people in 2009, including four foreigners.
New Zealander Michael Denton, 29, was among a group who drank "Jungle Juice" at a hotel in Bali. Within hours he felt ill. Just an hour later, he was found unconscious.
Attempts to revive him failed and he died soon after in hospital.
Methanol is used as a fuel, a solvent, a windscreen de-icer and in antifreeze. Its consumption can cause blindness, coma and death.
The journal article said arrack was a coconut flower, rice and sugarcane-based spirit which was common in Indonesia. It was produced commercially as well as illegally. It was different from the Middle Eastern anise-flavoured liquor called "arak".
Drs Gee and Martin, of Christchurch Hospital's emergency department, said it was likely the 19-year-old woman was given a drink contaminated with methanol from the illegal distillation of ethanol.
"An almost identical case was reported in an Australian tourist to Indonesia in 1992. An incident where 25 died from methanol poisoning in Indonesia occurred in 2009, and in recent months an Australian nurse was poisoned by tainted arrack and another tourist died in similar circumstances."
They said the 19-year-old's case highlighted again the risk of consuming alcohol of unverified origin in South East Asia.
- APNZ