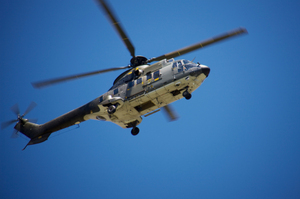 The United States congressional armed services committee will be asked to consider building a new base in Western Australia for an aircraft carrier task force, including nuclear submarines and possibly strike aircraft.
The proposal is one of four options contained in a report commissioned by the US Department of Defence, and follows an earlier Australian report suggesting a similar upgrading of the Stirling navy fleet base near Perth.
Both reports were cast in the shadow of China's expanding presence in the Pacific and rising tensions in the South China Sea.
The US report, by the Centre for Strategic and International Studies, provided its options as part of the planning of President Barack Obama's new strategic "Asia pivot" which will swing focus from Europe and insulate the Pacific from military budget cuts of US$487 billion over the next decade.
Despite other cutbacks the US will keep its 11 aircraft carriers, six of which are in the Pacific Fleet.
The fleet also includes more than 30 ballistic missile and attack nuclear submarines.
As part of its new focus the US is already sending a 2500-strong marine task force to the Northern Territory and combat ships to Singapore on rotational deployments. Military planners are also considering a joint US-Australia base on the remote Cocos Keeling Islands, using drones to patrol vast areas of the western Pacific and Indian Ocean.
The CSIS report to Congress contains the option of basing a carrier strike group including an air wing of up to nine squadrons, and several guided missile cruisers, nuclear submarines and supply ships at HMAS Stirling.
US submarines already visit the Stirling base and a Los Angeles class fast attack vessel, nuclear-powered and able to fire Tomahawk cruise missiles, took part in last year's big Talisman Sabre exercise off Queensland and the Northern Territory. Stirling at present cannot accommodate aircraft carriers, and the CSIS report said major work would be needed, with comparable cost estimates ranging from US$1 billion for a carrier homeport in Florida, to US$6.5 billion for a similar base in Guam.
"Australia's geography, political stability, and existing defence capabilities and infrastructure offer strategic depth and other significant military advantages to the United States in light of the growing range of Chinese weapons systems, US efforts to achieve a more distributed force posture, and the increasing strategic importance of Southeast Asia and the Indian Ocean," the report said.
Australia has generally welcomed the marine deployment, both major parties are strong advocates of the alliance, and a recent Lowy Institute poll found 87 per cent in favour - its highest in seven years.