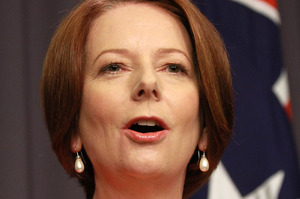 The Greens are refusing to concede defeat in the Melbourne state byelection until all the votes are counted, despite Labor declaring victory.
With about 1200 votes still to be tallied, the ALP was ahead by 754 in a seat it has held for a century. The Greens were favoured to win.
Labor's Jennifer Kanis appears to have edged out the Greens' Cathy Oke, with 51.38 per cent of the two party preferred vote to the Greens' 48.62 per cent.
Victorian Opposition Leader Daniel Andrews said the result was better than anticipated, even though Labor's primary vote slid to 33 per cent, behind the Greens' 36 per cent. "We always said this would be a tough fight and ... the primary vote that we've been able to achieve is significantly higher than many thought it would actually be."
About 1200 postal votes are yet to be counted, together with a small number of declaration votes from people who could not be found on the electoral roll. "The Victorian Electoral Commission said last night that they prefer accuracy over speed and so do we," federal Greens deputy leader Adam Bandt said.
"The only thing we definitively know now is that the Greens' vote's gone up, the Labor vote's gone down. The only way they'll get over the line is a result of preference deals."
The ALP suffered a swing of almost 5 per cent to the Greens and is relying on preferences, including those from Family First and the Sex Party, to clinch the seat. There was a poor voter turnout, with just 27,000 of 45,000 enrolled voters taking part.
Kanis shrugged off questions about Prime Minister Julia Gillard's absence during the campaign. "No one's really talking to me about federal issues at all," she said.
ACTU president Ged Kearney says people would have to be naive and silly to think union leaders wouldn't discuss the possibility of Kevin Rudd returning to the Labor leadership. But she insists the union movement is firmly behind Gillard and the policies she is delivering for workers.
Leading union officials last week discussed the possibility of Rudd reclaiming the top job with Transport Workers Union boss Tony Sheldon reportedly threatening to withdraw campaign funds if that eventuated.
- AAP