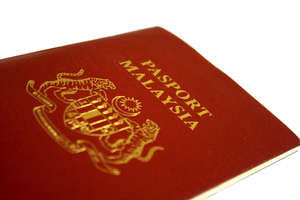 For most blokes, romance can be shown with half a dozen red roses. But one young man tried half a dozen different routes and fake passports to get into New Zealand to see the woman he loved.
Immigration NZ has revealed more than 20 instances of fake Malaysian passports being used to try to get into New Zealand this year, or to transit through to South America.
One 27-year-old had been living in Auckland on a partnership work visa, because his girlfriend lived here. But after they broke up, he was refused a new visa and in May this year he was forced to leave.
Last month, he tried to fly here from Kuala Lumpur but New Zealand border officials told the airline not to let him board.
He then applied for a new visa at Singapore but was declined for the same reason.
The man illegally obtained a new Malaysian passport under a different name and entered Singapore to avoid suspicion. He boarded a flight from Singapore to Auckland. Despite the name change, he was refused entry and sent back to Singapore.
He tried to enter New Zealand once more on the same passport, flying from Sydney to Queenstown, but again, immigration officials refused to let him board.
This month he obtained another Malaysian passport with a different name and date of birth. He caught a flight from Melbourne to Christchurch but was stopped at Christchurch airport, and returned to Melbourne.
"He says he's in love with her," said Karen Urwin, Immigration NZ's border operations manager. "I don't like to stand in the way of Cupid's bow, but he needs to accept that the relationship is over and he's not legally entitled to be in New Zealand."
International airlines are responsible for the cost of flying home passengers entering New Zealand without correct documentation, and Immigration NZ was able to lay charges against airlines who break the rules.
Since the start of last year Singapore Airlines and Jetstar have been charged and convicted for allowing passengers to board against Immigration NZ direction. Each airline was fined $6500.
Five more airlines are awaiting prosecution, but from this month a law change allows the agency to take immediate action against the airline.
Urwin said passengers boarded flights inappropriately for different reasons.
"In some countries it's error, in some countries it's corruption," she said. "If you're a people-smuggler, you pay a check-in agent to get you on the airplane."