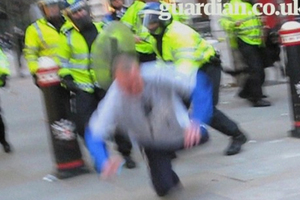 Manslaughter case did not reveal that constable had resigned under cloud.
A police officer who was yesterday cleared of the manslaughter of a homeless man had been allowed to serve in a specialist riots unit despite a string of complaints about heavy-handed tactics.
Police Constable Simon Harwood, 45, is now facing a public misconduct hearing and civil action from victim Ian Tomlinson's family, who said the not guilty verdict was a joke.
The highly trained officer had admitted hitting the newspaper seller with a baton and shoving him to the ground, but insisted his conduct was justifiable in the context of the G20 riots in 2009.
The jury, which took four days to reach its verdict, was not told that Harwood had been the subject of 10 disciplinary complaints in 12 years as an officer. He only avoided facing serious disciplinary charges in 2001 over a road-rage attack after quitting his job on health grounds - but later rejoined the force without having to face a hearing.
Yesterday, the Independent Police Complaints Commission condemned the "alarming" ease with which Harwood had escaped earlier disciplinary action.
The Tomlinson family stormed out of Southwark Crown Court moments after the jury returned its verdict. Speaking afterwards, Tomlinson's stepson Paul King said his family would continue its fight for justice. "It's not the end."
The family had expected a guilty verdict after an inquest last year found Tomlinson had been unlawfully killed, King said.
Tomlinson's death has become a focus for concerns about aggressive policing in the capital.
The court heard that Harwood had been publicly humiliated by his failure to arrest a protester during anti-G20 demonstrations on April 1, 2009, and his "blood was up" when he struck Tomlinson, 47, who was trying to get through police lines to reach his hostel after a day spent drinking with friends.
Video footage showed Tomlinson sent sprawling then remonstrating with police officers before being helped to his feet. He had been ambling away from the police lines with his hands in his pockets. He collapsed on the street about 75m away and was dead within an hour, having suffered severe internal injuries.
Tomlinson's family said yesterday they would pursue civil action over his death after it emerged that Harwood resigned as a constable at the Metropolitan Police in 2001 and avoided disciplinary charges over the road-rage attack. He had been accused of unlawful arrest, abuse of authority and discreditable conduct but the case against him was never heard.
After resigning, he started work as a Scotland Yard civilian worker before returning to uniform for Surrey Police in 2003. He rejoined the Met in 2004 and trained to become part of the Territorial Support Group - the public order team that is at the frontline of clashes between protesters and police.
The complaints commission warned of damage to public confidence over the case and demanded that the country's biggest force tighten its vetting procedures. It said it was alarming the officer was able to avoid a disciplinary hearing.

-Independent