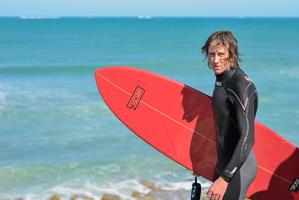 The Western Australian government is considering removing great white sharks from the protected species list after the fifth fatal attack in 10 months.
But it has been condemned by conservationists for resorting to "the Neanderthal reaction of a hunt and kill".
Yesterday, beaches near Wedge Island, 160km north of Perth, remained closed as fisheries officials searched for the 5m great white that mauled 24-year-old Ben Linden on Saturday morning.
The state's Fisheries Minister, Norman Moore, has ordered the shark to be killed if found.
The waters off Australia's west coast are now considered the world's deadliest shark attack zone, and Mr Moore said he was "open to any suggestions from anybody as to where we go to now, because we seriously have got a problem".
Mr Linden, from Perth, was paddling his board with a friend near Wedge Island about 9am when he was bitten. A man jetskiing nearby, Matt Holmes, tried to retrieve his body, but the shark "came at me on the jetski and tried to knock me off", he told the Australian Broadcasting Corporation.
Mr Linden's remains had still not been found yesterday despite police and volunteers scouring local beaches.
The series of fatal attacks is unprecedented. In Australia, one person a year on average is killed by a shark.
Mr Moore said: "We have allocated some A$14 million [$18 million] extra to get a better understanding of the great white sharks and the reasons why fatalities are occurring.
"I wonder if research might tell us that there are now much greater numbers of great whites than ever before, and maybe we should look at whether they should remain a protected species."
Martin Garwood, a Sydney Aquarium expert, said the spike in attacks probably reflected the growth in population and increasing popularity of water sports in remote locations.
Reassessment of the great white's protected status would involve gathering latest population data. A world-first acoustic tagging programme introduced by Western Australia last year has revealed sharks are lingering for months off the metropolitan coast.
Although the state's Premier, Colin Barnett, ruled out a culling programme earlier this year, fisheries officials laid baited lines at the weekend and grid-searched the area for the shark. Witnesses said they had seen it swim out to deeper water.
Mr Holmes, the jetskier, said he saw "blood everywhere" and a "massive, massive" shark circling Mr Linden's body. "By the time I got there, half of him had been taken," he told the ABC. "I did another loop and when I came back to get the body, the shark took it."
Mr Linden's girlfriend, Alana Noakes, wrote on his Facebook page: "Surfing was his soul, his life, his culture and his passion."
Ms Noakes thanked friends for their support, saying that "it means the world to Ben's family and myself".
"We are so grateful that Ben has touched so many people's lives in the short time we were allowed to be with him."
Sharks' victims
Attacks off Western Australia in the past 10 months:
July 14
Benjamin Charles Linden, 24, killed on Saturday near Wedge Island, about 160km north of Perth, while surfing with a mate about 100m from shore.
March 31
Scuba diver Peter Kurmann, 33, taken by a suspected 4m great white near Bunbury, 180km south of Perth.
October 22, 2011
George Wainwright, 32, dies after being bitten by a great white while diving off Rottnest Island, 12km west of Perth.
October 10, 2011
Bryn Martin, 64, disappears off Perth's popular Cottesloe Beach. Speedos later found.
September 4, 2011
Kyle James Burden, 21, killed by a suspected great white while bodyboarding at Bunker Bay, about 250km south of Perth.