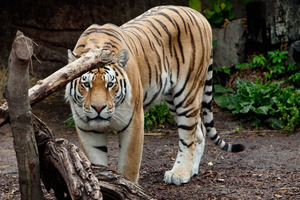 A man was killed by tigers at a zoo yesterday in what police believe may have been a deliberate attempt to end his own life.
The man, in his early 20s, scaled a fence and crossed a moat to get into the enclosure at Copenhagen Zoo. He was dead when staff arrived for work yesterday morning.
"We received an emergency call at about 7.30am that a person had been found lying in the tiger pen and that three tigers were surrounding that person," said a policeman in the Danish capital.
"The tigers attacked him and killed him. It is likely that a bite to the throat was the primary reason for his death."
The man, who was yet to be identified, was not Danish but had a Denmark resident's permit.
Psychologists have been called to the zoo to offer counselling to staff who found the body.
- Daily Mail