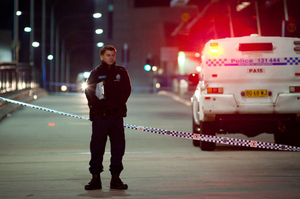 A 22-year-old apprentice chef has died after being stabbed during a brawl at a bus interchange at Parramatta, Sydney. Photo / Daily Telegraph
As the number of shootings in Sydney this year topped 70 at the weekend, new moves to clamp down on illegal firearms were being drawn up by federal and state governments.
The most recent estimates by the Australian Crime Commission put the number of illegal guns in circulation at 260,000, many in the hands of organised crime, motorcycle gangs and drug dealers.
CrimTrac, the national law agencies' information swapping service, says about 14,000 firearms disappear from official registers every year.
More than 75 weapons have been stolen in New South Wales in the past two months alone.
Weapons falling into criminal hands include military-style firearms such as AK-47 assault rifles, Bren light machine guns, M1 carbines, semi-automatic pistols, pump-action shotguns and revolvers, as well as hunting and sporting rifles.
"Everywhere I go where these shootings are occurring, families are terrified because they know that a stray bullet could lead to something much more tragic than what we've seen here today, New South Wales Opposition Leader John Robertson said after the latest shootings over the weekend.
He called on the state government to reallocate police resources in Sydney from the "leafy suburbs of the North Shore" to where they were needed most.
A 23-year-old man was shot in the arm and abdomen in the western Sydney suburb of Auburn, and shots were fired at two homes.
A fitter and turner was arrested in Greystanes, also in Sydney's west, for allegedly modifying guns for organised crime groups.
The man was arrested by the NSW Police's Middle Eastern organised crime squad as part of an investigation into gun and drug trafficking that has seen 11 people charged with various offences, and about 10 guns seized.
Concern over gun crime and the illegal firearms market rose sharply late last year with a spike in shootings in Sydney and other major cities, although the most recent report from the NSW Bureau of Crime Statistics and Research said gun crimes had "stabilised".
The bureau said there were 10 fewer shooting incidents in the first three months of the year than in the final quarter of 2011.
But the number of weapons believed to be in the hands of criminal groups has alarmed authorities, with the Australian Institute of Criminology reporting that 70 per cent of all long-arms and two-thirds of handguns seized by police were taken from bikie gangs. The most common long-arms were semi-automatic rifles.
The institute said the major customers of gun traffickers were organised crime and bikie gangs, and drug dealers, who used the weapons for gang warfare, serious crimes, self-protection, and to amass arsenals.
Semi-automatic pistols were the weapon of choice because of their punch and large magazines and because they were easy to hide.
A national intelligence assessment by the Crime Commission said that most of the more than 250,000 long-arms and 10,000 handguns in the illicit market were weapons that had not been registered or surrendered in the buy-back after the 1996 Port Arthur massacre, or had been stolen from legitimate owners. Others had been diverted by crooked firearms dealers or imported illegally.
Last month federal and state governments agreed in principle to a wide-ranging crackdown, including new crimes with maximum penalties of life in jail.
"The reforms are designed to tackle the illicit firearms market from every angle - to seize illegal firearms, to break the code of silence, to improve our ability to trace illegal firearms, to strengthen laws and harden the border," Home Affairs and Justice Minister Jason Clare said.
The federal Government is now drawing up legislation for a new offence of aggravated firearm trafficking for dealing in guns across national and state borders, and is urging states to adopt sweeping new search powers.
Under the proposed uniform laws police would have the power to conduct random searches of repeat firearms offenders, without warrants and extending to premises and any vehicle, vessel or aircraft in which they were travelling. They would also be denied bail if charged.
The federal Government will also boost the Crime Commission's ability to trace firearms and is setting up a special intelligence team to target criminal groups at the nation's borders.
The states and territories have also agreed in principle to strengthen firearms laws, roll out a ballistics identification network to link seized weapons to earlier crimes to create a national databank, and to develop a national firearms register.additional reporting AAP