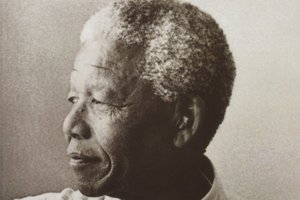 Kiss helped seal mission for white British protesters who took on apartheid.
Denis Walshe, an electrician from Beckenham, near London, is on a mission - to track down a black cleaner he met in a Durban hotel room in 1971. She walked in on him and his friend, Pete Smith, while they were building a "leaflet bomb" designed to discharge a confetti of thousands of African National Congress leaflets they had smuggled from London in a false-bottomed suitcase.
"We had identified all the places where the black workers catch buses back to the townships in the rush hour," said Walshe, now 63.
"That was where we were going to place our buckets and have them explode simultaneously.
"It was the night before and we had 10,000 ANC leaflets spread all over the floor, timing devices, electric cables and small bits of explosives everywhere and in walks the maid!
"We were in despair. We had flown halfway around the world to carry out this operation and everything depended on what happened in the next few seconds."
Walshe, who was 21, and Smith were among a remarkably diverse group of white activists - electricians, engineers, a telephonist, a seaman and several students from the London School of Economics (LSE) - recruited to travel to South Africa on a range of short missions in the 60s and 70s. Armed with toy tarantulas, fireworks and plastic buckets, they aimed to send the message that the ANC was still alive.
The mastermind was LSE student Ronnie Kasrils, who later served as a minister in the governments of Nelson Mandela and Thabo Mbeki.
This motley group of men and women, all now in their 60s, have spent the past week in South Africa being feted by the ANC, and have emerged as unsung heroes of the struggle against apartheid.
They are on a book tour to promote The London Recruits, which charts their covert exploits between 1967 and 1971 to revive resistance to apartheid in South Africa when the racist regime had jailed all the ANC's top leaders, including Mandela.
The apartheid regime thought it had stamped out resistance for good.
Mandela was in jail for life, having been convicted with the rest of the top leadership in 1964. Other senior figures had gone into exile.
Kasrils said: "The late 1960s were the bleakest period of the struggle against apartheid. The underground networks had been crushed, we had ceased to exist and the masses were intimidated.
"We needed to get a message of hope to the remnants of the movement and to the South African people. The London recruits filled a void right up until 1972 when the underground was rebuilt again."
Ken Keable, a 67-year-old electrical engineer who edited the book, said: "I had 1200 letters in a false-bottomed suitcase and had to go to the post office, buy 1200 stamps and post them all round Johannesburg.
"They were letters of encouragement to the Indian community, which the apartheid government was trying to divert from the struggle.
"We were protected by our white skins," said Keable, who was deeply shocked at the racial injustices he found. His next assignment, in 1970, was to plant the leaflet bombs.
As the buckets went off in strategic commuter sites, cassette recorders played messages, beginning "This is the voice of the ANC" and including songs by the ANC London choir.
"The London recruits set off leaflet distribution devices in five cities every year between 1967 and 1971."
Sean Hosey and Alex Moumbaris were both captured. Some of the London recruits were active into the 1980s, including the owners of Africa Hinterland, a tourist company whose owners, over several years, carried an estimated 40 tonnes of weapons for the ANC in the floor of an overland vehicle. The story has been made into a film, Secret Safari.
Keable says the book is a call for greater international solidarity. "All the London Recruits could have said apartheid is wrong but it's not my problem, but none of them did. International solidarity is something we need more and more of now, for the people of Palestine or for the people of Saudi Arabia."
Walshe echoes his call but has not forgotten his other priority during his upcoming four-week holiday - finding the hotel maid.
"She was about our age and black. Pete and I were so shocked when she came across us in the hotel room that all we could think to do was the ANC salute. We were supposed to be as white as can be.
"We were not supposed even to talk to any black people during our visit. Instead we told her everything and our operation grew from two people to three. We said goodbye with a kiss, which was about as illegal as you could get in those days. I would love to meet her again."

-Observer