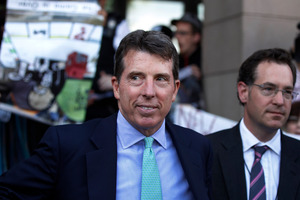 The City began a fightback yesterday as Barclays enlisted Tony Blair's former adviser Tim Allan to help deal with the crisis over the Libor interest rate fixing scandal.
There was growing fury at what is seen as unfair treatment of the bank and its ousted chief executive Bob Diamond. Senior executives yesterday said they felt Barclays had been made "the fall guy" for the industry.
Investec analyst Ian Gordon accused MPs of hypocrisy. He wrote: "In recent years, 0.5 per cent of MPs in the UK have been imprisoned for theft. Many more escaped sanction by agreeing to repay expenses claimed in error, while perjury, perverting the course of justice and spying for the Czech Republic have also proved popular pastimes ...
"Notwithstanding that the current members of the Treasury Select Committee are (in our view) all of unquestionable integrity, there is a slight irony that these representatives of an organisation with such a rich criminal tradition were interrogating Barclays where less than 0.01 per cent of staff have been accused of attempted Libor manipulation in relation to which (thus far) no criminal charges have been brought."
Allan, the founder of Portland Communications, has now been pulled in to provide advice on handling the fall-out from the £290 million ($560 million) fines imposed as a result of the scandal.
Next week, Paul Tucker, the Deputy Governor of the Bank of England, will answer questions on the conversations he had with Diamond on the bank's Libor submissions. One of these resulted in a note being sent to Diamond's then boss John Varley and his deputy Jerry del Missier, suggesting senior Whitehall figures were concerned that Barclays submitted high numbers during the financial crisis. Del Messier is said to have taken it as a hint that Barclays should submit artificially low rates.
- Independent