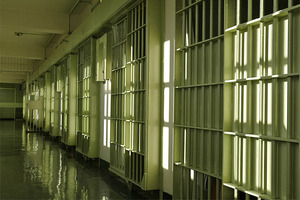 Fallen Melbourne drug tsar "Fat Tony" Mokbel will spend most - if not all - of his remaining years in jail serving a 30-year sentence imposed in the Victorian Supreme Court yesterday.
Already behind bars on a 12-year sentence for cocaine trafficking, Antonios Sajih Mokbel will serve a non-parole period of 22 years on charges involving an amphetamine operation known as The Company.
A medical report prepared for Justice Simon Whelan said that Mokbel, who suffered a mild heart attack in February, now had a life expectancy of 24 years or less.
But while taking his medical condition and a number of other mitigating factors into account, Whelan said Mokbel had shown an "arrogant contempt" for the law and an "incorrigible determination" to continue his trade in drugs even while on bail and despite earlier convictions.
He ran the business from Athens after skipping bail, sailing to Greece on a yacht and living with his lover and infant daughter until his arrest wearing an ill-fitting toupee.
This is the end of the line for one of the last of Melbourne's Underbelly gangsters, the feuding family-run syndicates who held an iron grip on the city's organised crime before effectively wiping each other out in a series of tit-for-tat executions.
Mokbel was associated with Carl Williams, the baby-faced killer whose clan waged a bloody war against the rival Moran family and who was beaten to death in the Acacia high-security wing of Barwon Jail, near Geelong, in 2010.
Williams was serving a life sentence for the murders of Jason Moran, his father Lewis Moran and drug trafficker Mark Mallia, and for conspiracy to murder.
Mokbel was a migrant battler who made it to the top in a deadly world. Born in Kuwait of Lebanese descent, he arrived in Australia aged 8, speaking no English and struggling through school. His father died at 52 from a heart attack, which a psychologist's report said had scarred Mokbel, then aged 15.
Crime suited him. With his first conviction at age 18, by 2000 he had served time for perverting the course of justice by trying to bribe county court judges and had embarked on a career in drug manufacturing, wholesaling and importing that was eventually to bring him down.
Mokbel always insulated himself from the sharp end of the business which earned him millions, housed him in a Melbourne mansion and provided him with a Ferrari and similar big boys' toys.
He dealt in mainly in MDMA and Ecstasy, beating an amphetamines trafficking charge on appeal in 1998, moving into large-scale importation, and beating a A$2 billion ($2.4 billion) chemical importation rap when charges were withdrawn.
Mokbel hired a chemical products company to press methylamphetamine pills initially using ingredients he had bought in bulk by pretending to be a bricklayer needing to clean bricks. Using three presses he produced more than 100,000 pills, wholesaling them to The Company for A$4.3 million in an operation that continued through a year on the run.
Mokbel was also drawn into the gangland wars through his association with Moran and was suspected of involvement in four underworld murders, none of which was proved: he was acquitted of charges relating to Lewis Moran's killing; another for shooting rival Michael Marshall was dropped; and two others never moved beyond suspicion.
But the good times rapidly came to an end. In 2005 he planned, but later withdrew from, a move to import 100kg of MDMA with undercover agents posing as international traffickers, and was later charged with importing cocaine.
Granted bail, Mokbel fled - first to the former goldmining hamlet of Bonnie Doon about 100km northeast of Melbourne, then to Perth, where a yacht bought in Sydney and transported overland sailed him to Greece.
He was later joined by lover Danielle McGuire, a former Melbourne beauty shop owner, and their 6-month-old daughter, Renate.
Australian and Greek police arrested Mokbel at an Athens cafe in June 2007, and flew him home in a Gulfstream executive jet charted for A$450,000. He moved immediately to Barwon jail to begin serving a 12-year sentence imposed in his absence.
Mokbel then struck a deal in which he would plead guilty to three narcotics charges in return for a minimum sentence of 20-23 years. He also expressed his deep regret to forensic psychologist Wendy Northey for his life in drugs.
He said in a statement included in her report to the court: "Dealing in drugs was definitely wrong. It causes damage to a lot of people, creates headaches and violence in people's lives."
Justice Whelan was not impressed, saying the value of Mokbel's guilty pleas had been devalued by the fact that they had not been made at "the first realistic opportunity", and by his later attempt to have them reversed.
"In the course of that application you expressly disavowed acceptance of responsibility for these offences," the judge said.
"More importantly, I'm unpersuaded of your remorse because of the nature and duration of your offending.
"You were not deterred by your conviction and sentence. Drug trafficking was your business, it was your area of expertise, it was your career.
"Things have not turned out as you planned, and no doubt you now regret that. But to describe such feelings of regret as remorse is, I think, misconceived."
TONY MOKBEL
Age: 46
Accused: Of heading one of Australia's largest drug empires. Mokbel pleaded guilty to three serious drug trafficking charges last year.
Sentence: The Victorian Supreme Court jailed him for 30 years. He must serve at least 22 years in prison before being eligible for parole. He was already serving 12 years in prison for trafficking cocaine.
Background: From the mid-1990s Mokbel built up a drug empire that turned over hundreds of millions of dollars. In 2006 Mokbel fled a drug trial a few days before it finished. He took a yacht from Western Australia to Greece. Mokbel was eventually arrested at an Athens cafe in June 2007 wearing a bad wig. - AAP