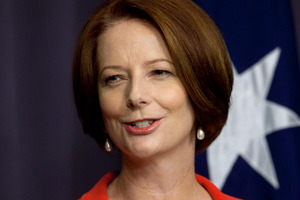 Prime Minister Julia Gillard believes she has the numbers in the lower house to pass a bill that would allow both Labor's Malaysia deal and asylum seeker processing on Nauru.
It appears likely coalition backbenchers Mal Washer and Judi Moylan will vote with the government, along with some independents.
But Opposition Leader Tony Abbott says the private bill, proposed by independent MP Rob Oakeshott, won't provide a solution because it will almost certainly fail in the Senate.
The House of Representatives has spent more than two hours debating the bill, which Mr Oakeshott describes as a "circuit-breaker".
It allows the immigration minister to declare that asylum seekers can be sent to any country that is part of the Bali Process.
That would allow the Malaysia people-swap deal and a detention centre on Nauru.
When the bill came to a second reading vote in May, the house was tied 70-70.
"I have reason to believe that the bill ... may be in a position to command majority support in this House of Representatives," Ms Gillard told parliament on Wednesday.
She said it was appropriate that an independent MP had authored the plan to break the deadlock between the government and the opposition.
It was now time for both sides to solve the issue and look beyond party differences.
"As a Labor leader, I would want to walk from this place saying 'no one won, no one lost - we just got something done'," she said.
The opposition has moved an amendment to restrict offshore processing only to those countries that have signed the United Nations refugee convention.
That would rule out Malaysia, but allow Nauru and Papua New Guinea.
Mr Abbott said the amendment would give the bill a "strong chance" of progression through the Senate, where the government doesn't have a majority.
"It is very important if this debate is to bring about progress rather than mere noise, that the bill that comes out of this chamber is one with a strong chance of passing the Senate," he said.
Australian Greens MP Adam Bandt said the bill would "rip up the refugee convention" and would allow future governments to send asylum seekers to Iraq, Syria or Afghanistan.
The Greens are calling for a regional solution based on guarantees of protections for asylum seekers.
They could unite with the coalition to kill the legislation in the Senate.
Greens senator Sarah Hanson-Young sat in an observers area of the lower house for almost an hour of the debate, during which time members of both major parties had discussions with her.
An emotional Liberal MP Michael Keenan said sending people to Malaysia was not the solution.
He recalled his involvement in the parliamentary inquiry into the SIEV 221 tragedy, when more than 50 asylum seekers died when a boat crashed against rocks off Christmas Island in late 2010.
"One of the Australians told me (that) he looked face to face with a child who he couldn't rescue, even though he could almost touch her," Mr Keenan said.
"And that child perished."
He urged MPs to support the opposition's amendments rather than Mr Oakeshott's bill.
Home Affairs Minister Jason Clare said Australians had had a "gutful" of parliament fighting on the issue.
"They are sick of us fighting, they are sick of the politics, they are sick of hearing of more people dying, they are sick of us yelling at each other," he said.
"They just want us to fix this."
Debate is continuing.
- AAP