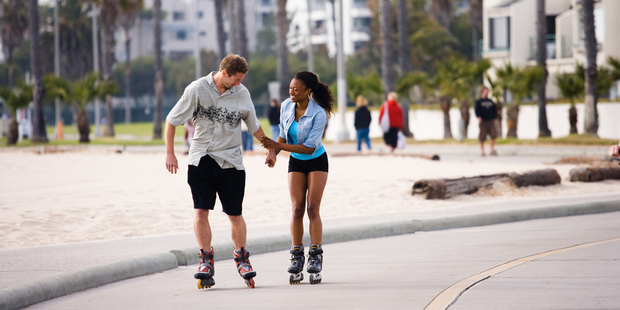 Venice Beach has long been known as the bohemian heart of Los Angeles. It was a place by the sea where the city's obsession with Hollywood stars gave way to a strange mix of hippies, artists and muscle-bound weightlifters pumping iron on the boardwalk; where Beat writers such as Allen Ginsberg and Jack Kerouac haunted its bars and cafes.
Arnold Schwarzenegger first shot to fame there as a young bodybuilder, fresh from Austria, long before he became an action star and a politician.
Now, however, an unusual newcomer to Venice Beach is causing a stir among its long-established alternative scene. That interloper has arrived in the form of internet search giant Google, which has snapped up some 30,500sq m of Venice office space for more than 500 sales and technology staff.
It is also negotiating on a further 30,500sq m, including Gold's Gym, which has long been the symbol of Venice's large population of bodybuilders.
The invasion has sparked a furious debate among Venice residents, and wider observers of Los Angeles' shifting social scenes, as to whether Google's presence could irrevocably change one of the city's most distinctive neighbourhoods.
Schwarzenegger himself has voiced concerns - immediately denied by Google - that his beloved Gold's could be closed by the sudden invasion of geeks into a city some are even beginning to call Silicon Beach.
"It's this conspiracy theory: Google is coming! They are going to take over and wipe out our bodybuilding'," Schwarzenegger recently told the New York Times, which accompanied the former California Governor on a tour of the neighbourhood.
Another local muscleman, Nathanial Moon, was more blunt and told the newspaper's reporter the development was "the ultimate revenge of the nerds. The greatest way of getting back at all the guys that stuffed people from Google into lockers in high school and stole all their prom dates."
But there are concerns beyond what might happen to Gold's. The hippies, hobos, penniless artists and small business owners peddling beads, bongs and bohemia might want to have their say too.
Like many former gritty areas of America's big cities, such as New York's East Village, Venice has already been subject to a wave of gentrification.
Drug dealers are a less common sight on its streets following a police crackdown, and a stretch of one of its formerly rundown streets - Abbot Kinney Boulevard - was recently named one of the coolest blocks in America by GQ magazine. Celebrities such as actor Robert Downey jnr have bought buildings in the neighbourhood.
Lindsay Lohan resides there, though the hard-living star might seem to her detractors an example of old Venice Beach partying rather than any leap upmarket.
An ad agency owned by basketball star Kobe Bryant has just moved to the area. It also now boasts a Whole Foods store and some expensive fashion boutiques.
That has raised the concern that the area is becoming a little like nearby Santa Monica, which is now solidly gentrified.
Chris Matyszczyk, a columnist at tech website C-Net, says that would be a shame.
Venice is known the world over for its beach boardwalk populated by burnouts, skateboarders and hippies.
The movement of Google and other tech firms into the neighbourhood is likely to push up house prices and rentals and see its genuinely seedy vibe replaced by something a little more sanitised.
"It is inevitable they will change the culture of the place," said Matyszczyk.
"But we need our seedy parts of the world."
Yet Google has played its cards well, perhaps hoping to avoid the experience of trendy frozen yoghurt maker Pinkberry, which ended up being boycotted by residents. Google moved into the area only after holding a public meeting.
It also moved into a renowned Frank Gehry building, perhaps lending the Google geeks a bit of cool street cred.
"They have been smart about it. They moved into a great building and are helping to regenerate a crappy part of town," said Matyszczyk. Observer