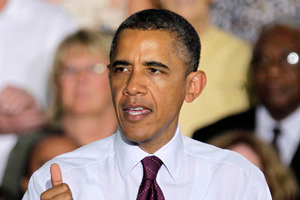 Politicians might be about to voluntarily put the world's largest economy into a double-dip recession.
The United States is headed for what economists are calling a "fiscal cliff" at the end of this year, when huge government spending cuts are due to kick in at the same time as a big jump in tax rates.
Not since the end of US government war spending in 1945 has there been such a sudden slamming on of the economic brakes.
Even the bipartisan Congressional Budget Office is sounding the alarm. Unless Congress acts, it says, the barely recovered US economy will go straight back into recession.
Even though analysts, political pundits and investors believe Congress will do something to prevent disaster, they agree it might take the threat of a stock market meltdown to bounce it.
The uncertainty and gathering risks are already crimping economic growth. That is bad news for the 12.7 million jobless Americans and for global investors counting on the US to make up the slack from sickly Europe and slowing China.
The fiscal cliff is the result of a coincidence of different factors. The first and largest is the expiry of President George W Bush's tax cuts, which were extended two years ago to stoke the nascent recovery. The second is the expiry of a payroll tax cut for American workers, also a hangover from recession-fighting stimulus measures.
The third is the exhaustion of federal benefits to the long-term unemployed. The fourth is the budget deal that staved off a US debt default last (northern) summer.
- Independent