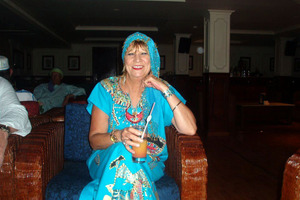 Thai police are hunting two men who killed one Australian travel agent and wounded another in a bungled motorcycle bag-snatching attempt on the resort island of Phuket.
Michelle Elizabeth Smith, 60, was fatally knifed in the chest and her companion Tammee Lynn, 42, was slashed on the arm in a narrow street in Kata Noi Bay, normally considered one of the island's safer districts.
The two Perth women were part of a group of 10 West Australian travel agents staying at the five-star Katathani Beach Resort, on Phuket's west coast.
Smith was apparently knifed after she tried to keep hold of her bag when two men on a motorcycle tried to grab it. The attack has left family and friends devastated.
Smith, a senior travel consultant with RAC Travel in Perth's northern suburb of Joondalup, was married with two adult children.
Her husband, Geoffrey, was born and raised in New Zealand but moved to Australia a number of years ago.
A neighbour of the couple, who have two grown children, said he was stunned by his wife's death and was coping as best he could. He was trying to organise the return of his wife's body to WA, Perth Now reported.
Smith said his wife was a special person, "bright, sparkly, hard working, a wonderful mother", who had loved the travel industry she had been a part of for 40 years.
"I'm totally devastated," he told ABC radio.
"It's a shock. It's not as if she was travelling on her own. She was with a group of agents all together and just unfortunately plucked out of the crowd."
A friend who did not want to be named told thewest.com.au that Smith was feisty and full of life.
"She was a breath of fresh air, she always had everyone in hysterics," she said.
"She was fun-loving and just one of those people who you thought, 'I'd love to be like her when I'm her age' - just so full of life.
"I'm not surprised she fought back. She was an experienced traveller and worked hard for her money. Most of us would have done the same thing."
The attack came after warnings of increasing crime against foreigners and attacks on Australian, Canadian, and European tourists in recent months.
The Phuket Wan Tourism News website said the women had been strolling through the street about 10.30 on Tuesday night when two men tried to snatch Smith's bag.
"We were walking single-file along the road, coming back from dinner," the site reported Lynn as telling police.
"These guys had gone past a couple of times, and that started to bother us.
"Then I heard a noise behind me and I turned to see what I thought was my friend being pushed in the chest.
"I tried to help her.
"The men rode off, empty-handed.
"We started walking again, and only then did we realise we'd both been slashed."
The site said Smith collapsed and died in front of a hotel.
The attack was filmed by a security camera but the grainy footage did not show the motorcycle's numberplate.
The website said the attack came in one of the island's safer areas and "one of the least likely places ... for this kind of brutal murder".
Smith's death was believed to be the first death from a motorised bag-snatching attempt, although the Australian Foreign Affairs Department warns of thieves slashing through bag straps with knives or razorblades.
The department also says that foreigners have become victims of sexual assault, food and drink spiking, assault and robbery, and that reports continue of aggressive jetski operators threatening violence on Phuket's beaches.
Another Australian, 21-year-old professional Muay Thai fighter Daniel Ketley, is in hospital after being found with serious injuries two weeks ago.
Police believe the injuries were caused by a motorcycle accident, but his parents and friends claim he was beaten by a gang of men.
Former Balmain league captain Darren Senter and two friends were attacked and injured by a large group of assailants, and in January American actor Jeremy Renner was hurt in a bar brawl.