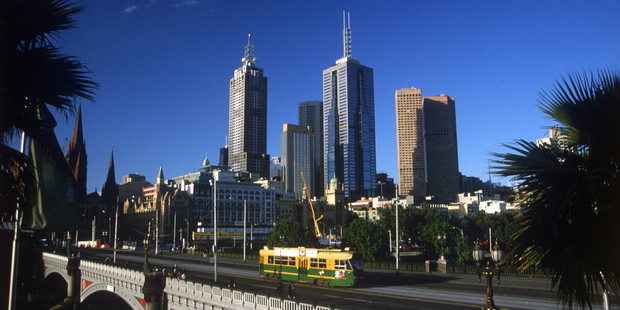 Victoria's biggest earthquake in decades has cracked walls, thrown stock from supermarket shelves and sent tremors statewide, and its aftershocks could continue for weeks.
The 5.3-magnitude quake, Victoria's strongest since 1982 and the third-largest in 100 years, hit just before 9pm (local time) on Tuesday with its epicentre between Trafalgar and Moe in the state's southeast.
The shaking lasted for about 40 seconds but could be felt from Gippsland to metropolitan Melbourne and as far as Swan Hill in the state's northwest.
Residents in townships close to the epicentre considered everything from falling trees to crashed planes to explain the sudden rumbling.
Yallourn North resident Deanna Paulet and her husband watched as their wood stove heater vibrated across the floor while cracks began appearing on the plaster walls.
"It felt like someone was shaking our house," she said.
"There was a roar and we realised it was everything we own shaking in drawers and on shelves."
Supermarkets and pharmacies in nearby Moe, Newborough, Trafalgar and Morwell had stock thrown to the floor and shelves collapse.
"There was soft drink everywhere, shampoo bottles off the shelves, some smashed bottles of red wine and Midori," said Robin Marriott, the owner of Newborough Foodworks.
"But the building is fine. I guess we're lucky."
The State Emergency Service responded to more than 40 calls for help, with the bulk coming from Gippsland townships and a handful from metropolitan Melbourne.
Geoscience Australia seismologist Marco Maldoni said about 60 smaller aftershocks were felt yesterday and these could continue for days or weeks.
"These are a lot smaller than the initial earthquake, the vast majority below a two or three (magnitude)," he said.
Victoria has experienced an earthquake of comparable size on average once every 15 years since 1900, Maldoni said.
"In terms of earthquakes this is a minor earthquake, but let's keep in mind the 1989 Newcastle [New South Wales] earthquake was 5.6 magnitude and people died," he said.
"It is certainly significant for Australia and particularly for Victoria."
Maldoni said Gippsland was one of three areas in Australia, with the Flinders Ranges and Western Australia, where earthquakes occurred.
"People around Korumburra in Gippsland have been feeling earthquakes for the past few years. That's indicative of the fact there's a number of fault lines in that part of the state," he said.
Emergency services were assessing the impact of the quake but there were no reports of damage to critical infrastructure such as roads, rail, dams and power supply.
Construction experts say the earthquake did not have enough force to seriously damage buildings in Gippsland and Melbourne.
THE SHAKE
Time: 8.53pm (local time) on Tuesday
Location: Southwest of Moe, Victoria
Magnitude: 5.3
Depth: 10km
Tremors felt: Up to 230km away
Damage: Minor, possible up to 18km from epicentre.
- AAP