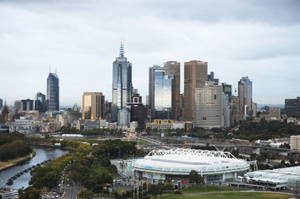 Last night's 5.3 magnitude earthquake in Melbourne may have shaken up some supermarket shelves but Kiwi expats are unfazed.
Geoscience Australia said the quake centred in Moe, a city in the Latrobe Valley and Gippsland region of Victoria, about 135 km east of Melbourne.
The organisation said the quake was the largest to hit the area in 109 years.
Max Walker, who recently moved to Melbourne from Wellington said he was at a friend's house having dinner when the quake struck.
"I thought maybe I felt something but couldn't really tell. About half an hour later someone checked their phone and it said there'd been an earthquake."
He said he does not know of anyone who was directly affected by the quake but has seen parodies on the event on social media.
"On Facebook there's a photo of a deck chair that's fallen over which says 'we will rebuild'."
Joyce Seitzinger, an education technologist who moved to Melbourne after working for four years as eLearning advisor at the Eastern Institute of Technology in Hawkes Bay wrote on Twitter "@dontBtheH believe me, this was nothing compared to a proper kiwi EQ... #melbearthquake #moreliketruckpassing."
Gerard Scholten wrote under his Twitter name @Gerschol, "wonder if the people of Japan or NZ rate stuff falling off shop shelves during an earthquake "substantial damage" #melbearthquake"

- APNZ