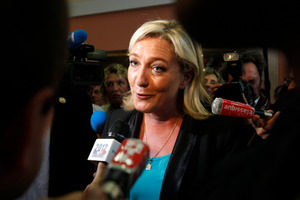 The Socialist Party cruised to a resounding victory in the final round of France's parliamentary elections, consolidating President Francois Hollande's tax-and-spend programme at a time of European austerity.
Exit polls showed the Socialists secured between 296 and 320 seats in the 577-member house, in an election that saw some dramatic upheavals in France's staid political landscape.
"With this majority, the Government has the support and the confidence to push ahead with our plans," said Finance Minister Pierre Moscovici. "Europe's future is at stake in the weeks ahead."
Among those who suffered a night of humiliation were Segolene Royal, Hollande's former partner and the Socialists' 2007 presidential candidate, who was defeated by a left-wing dissident backed by the President's new companion. Royal scored just 37 per cent of votes cast and bitterly called the result a betrayal.
Royal told French television the tweet sent by Hollande's new partner, Valerie Trierweiler, in support of her electoral opponent "certainly did not help, to put it mildly." She is now expected to launch a bid to take over the leadership of the Socialist Party later this year. "My political fight continues," she said.
On the other hand, a surge of popularity continued for the far-right National Front, which returned to Parliament for the first time since 1986. But its charismatic leader, Marine Le Pen, lost her race in a northern rust-belt town by just over a hundred votes, and is demanding a recount. Two National Front candidates won seats in the south, including Marion Marechal Le Pen, 22, granddaughter of party founder Jean-Marie Le Pen, who was elected in the southern town of Carpentras.
"The national movement is once again entering the National Assembly and that is an enormous success," Marine Le Pen told supporters.
Former President Nicolas Sarkozy's UMP suffered a string of major defeats that is likely to precipitate a civil war over the party's leadership. Among the defeated bigwigs were former Foreign Minister Michele Alliot-Marie, who controversially tried to shore up Tunisia's former dictator, Zine al-Abidine Ben Ali, days before he was toppled. Former Interior Minister and long time political adviser to Sarkozy Claude Gueant lost his bid to enter Parliament to a rebel UMP candidate. Nadine Morano, a former junior minister lampooned for her unmatched loyalty to Sarkozy, also got the chop.
Another casualty was centrist leader Francois Bayrou who at one time had an outside chance of the presidency.
He lost his a seat in southwestern France, as the party faithful punished him for declaring his support for Hollande in last month's presidential runoff.
The victory means the Socialist Party now controls both houses of Parliament and nearly all regional governments, gaining a mandate to implement policies which swim against the tide of belt-tightening in Europe.
Reports in France say Hollande, seeking to exploit the new unpopularity with austerity, proposed a €120 billion ($196 billion) package of spending measures to other European leaders last week. His package will be discussed at the European Union's summit in Brussels on June 28-29 in Brussels.