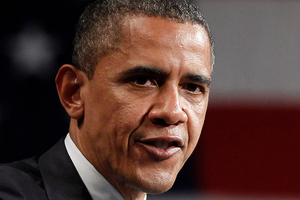 Obama angrily denies secrets given to media.
Us justice officials have opened a formal criminal investigation into leaks to the media of classified material on national security.
The announcement was made hours after US President Barack Obama rejected allegations from some members of Congress that his White House had leaked information for political gain, saying that such machinations were "not how we operate".
Attorney-General Eric Holder named two US attorneys to lead the criminal investigations into "possible unauthorised disclosures" of classified information.
"The unauthorised disclosure of classified information can compromise the security of this country and all Americans, and it will not be tolerated," Holder said.
The experienced prosecutors will be directing separate investigations currently being conducted by the FBI, he said.
The most recent leaks appeared in the New York Times, which reported last week that Obama personally ordered drone attacks targeting terrorists on a "kill list," and that he ordered a series of Stuxnet computer worm attacks against Iran's alleged nuclear weapons programme.
The newspaper reported that sources for their articles on the covert programmes included former or current administration officials.
An additional leak in May revealed that an al Qaeda plot to bomb a US-bound airliner was disrupted with the help of a Saudi double agent inside the terrorist network in Yemen.
This week, top-ranking members of intelligence oversight committees in Congress blasted the leaks and vowed to stop classified revelations that they say have risked national security.
Obama, for the first time, personally rejected the allegations.
"The notion that my White House would purposefully release classified national security information is offensive," said Obama.
He emphasised such leaks can up US security at risk and said that people in the government leaking classified information would "suffer consequences", including criminal prosecution when warranted.
"We don't play with that, and it is a source of consistent frustration, not just for my administration, but for previous administrations when this stuff happens," said Obama.
Democratic Senate Select Committee on Intelligence chairwoman Dianne Feinstein has called on Congress to swiftly enact legislation tightening rules to prevent unauthorised breaches, and welcomed an investigation launched by the FBI.
Obama's Republican White House rival, Mitt Romney, believes the President should take greater charge in order to stop the leaks in their tracks.
-AAP