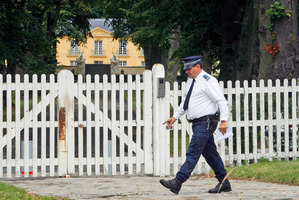 France's new president, Francois Hollande, prides himself on being Mr Normal. One of his election promises was to remain an average bloke, in touch with the people he represents and shunning the bling-bling excesses of his predecessor, Nicolas Sarkozy.
Two days after taking office, the Socialist head of state ordered a 30 per cent pay cut for himself and all his ministers. He then told heads of state-owned companies to each cut their salaries so they earn no more than 20 times the wage of the firm's lowest-paid. Last week, state representatives attending an Air France shareholders' meeting voted down a €400,000 ($660,000) "golden farewell" payout to the departing boss, Pierre-Henri Gourgeon.
When Hollande went to Brussels for his first EU summit, he took a fast train, much to the astonishment of other passengers. Each evening, when not away on state business, the President is whisked through the Elysee Palace's arch and driven home to the Paris apartment he shares with his twice-divorced partner and her three teenage sons.
This is hardly the regal existence reserved for French Presidents, a lifestyle sometimes dubbed "the republican monarchy".
But can it last? According to some, there is evidence Mr Normal is beginning to crack.
Over the Pentecost holiday at the end of May, Hollande said farewell to the stuffy Paris air and headed 20km southwest to the countryside nearby Versailles. There, in the shadow of the Chateau de Versailles, a symbol of France's defunct absolute monarchy, Hollande settled into La Lanterne, one of six palaces reserved for the head of state.
An 18th-century former hunting lodge, La Lanterne features a wine cellar which former Prime Minister Dominique de Villepin described as "one of the finest in the Republic". Alongside the cellar is the Jupiter Room, the command post for launching a nuclear strike.
La Lanterne was one of former President Nicolas Sarkozy's favourite weekend destinations. When he married former supermodel Carla Bruni, they held a wedding party at the two-storey baroque pavilion.
By all accounts, La Lanterne seems to fit the new presidential palate - perhaps because a former Socialist premier, Michel Rocard, installed a swimming pool and a tennis court. Hollande says it will remain a presidential residence.
According to MP Rene Dosiere, upkeep alone of La Lanterne is around €200,000 a year and using it sends the public entirely the wrong message at a time of belt-tightening. "We don't want to have the feeling that the President of the republic has taken up residence in Versailles," he said, referring to the chateau that, more than 200 years after Louis XVI and Marie-Antoinette were guillotined, is still associated with royalty.
The Elysee presidential palace has 370 rooms, an army of footmen to burnish the silverware and dust the baroque paintings, while the plumed helmets, dazzling breastplates and raised swords of the Republican Guard add a reassuring boost for the ego. The presidential bread is delivered each morning by the "best baguette baker in Paris," an annual award.
Beyond the Elysee lie five other official residences, including the 17th-century Fort de Bregancon, perched on its own island in the Mediterranean.
Former President Jacques Chirac holidayed at Bregancon most summers, while his predecessor Francois Mitterrand was less enamoured with it, preferring the more rugged Atlantic coast. The hatred between Chirac and Mitterrand was legendary but they did agree on the charms of Souzy-la-Briche, a hideaway 40km from Paris tucked away behind high walls.
Mitterrand would spend weekends there with his illegitimate daughter Mazarine. Chirac liked to chill out there with his daughters Claude and Laurence and selected guests. Sarkozy, though, snubbed the place.
"Sarkozy and his wives had no intention of setting foot in this rural backwater where - terrifyingly - they could not get a signal for their mobile phones," says the news magazine Le Point.
NICE DIGS
Elysee Palace
* 370 rooms
* Footmen
* 'Best baguettes in Paris.'
La Lanterne
* 18th century former hunting lodge
* Wine cellar and room for launching nuclear strikes.