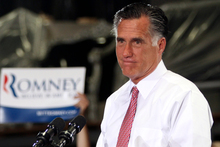 It's been a terrific week for Mitt Romney. Last Tuesday he won the Republican primary in Texas, giving him the 1144 delegates he needs for his party's presidential nomination. Not that the prize has been in any doubt for a couple of months now. Still, confirmation never hurts.
Then came polls suggesting Romney was gaining ground among independent and, especially, women voters, two categories that contributed mightily to Barack Obama's sweeping win in 2008. And, finally, the Labor Department reported some miserable employment figures, showing the economy added just 69,000 jobs in May, and that the number of jobs created in March and April was 49,000 lower than first reported.
For America (and Obama) these are grim tidings, suggesting the early year optimism that recovery was taking hold was misplaced.
But for the Republican aspiring to Obama's job, it is further grist to his argument: that this is now Obama's economy, not George W. Bush's economy. A Democratic president has had 3 years to fix things, but has failed to do so.
With his Rushmore-sculpted looks, Romney has always had the air of a president.
Now, Americans are coming to realise, he has a fair shot of actually becoming one.
He is raising as much money as Obama. In Ann Romney, he has a campaign asset to match Michelle Obama. Even Bill Clinton grudgingly agrees that Romney is a credible candidate. "A man who's been governor [of Massachusetts] and had a sterling business career crosses the qualification threshold," the former president told CNN.
His choice of running mate should do Romney further good. It has been noted that the potential vice-presidential field is far stronger than the presidential one ever was. For Rick Santorum, Michelle Bachmann and Newt Gingrich, read Jeb Bush, Rob Portman, Mitch Daniel and Chris Christie. All have served as senators, governors or high government officials.
Admittedly, none has the wow factor that Sarah Palin briefly brought to the ticket in 2008. But the last thing Republicans want is a repeat of four years ago, when Palin's glaring lack of qualification was a factor in John McCain's defeat. Any one of them would reinforce the image of steadiness and economic competence that is key to a Romney victory in November.
Romney still has more than two months to make this particular choice. But more good news could come much sooner.
Until now, Obama has focused his attacks on Romney's record at Bain Capital, portraying his opponent as a vulture feeding on the cadavers of sacked workers at companies acquired by the venture capital firm, concerned only with increasing profits for himself and investors. But, in the US, this is a dangerous tactic; accusations of being "anti-capitalist" have a sting they don't carry in other countries.
Now Democrats are switching to Romney's performance as governor of Massachusetts, charging that he created few jobs and was prisoner of the right.
But this, too, is tricky terrain. As a Republican in a traditionally Democratic state, Romney had to govern from the centre. During the primaries he disowned that past, describing himself as "severely conservative". Not a few believe Romney is a moderate, or at least a results-oriented pragmatist unshackled by ideology.
One terrific week, of course, does not a campaign make. Incumbents everywhere are struggling, and America should be no different. This election will be close indeed.
- Independent