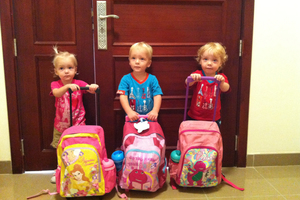 The parents of the New Zealand triplets killed in a mall fire in Qatar say they want to return home as soon as possible.
Two-year-olds Lillie, Jackson and Willsher Weekes were among 19 people killed in a childcare centre in Villaggio Mall in Doha, which caught fire on Monday night (NZT).
The bodies of the toddlers, who died of smoke inhalation, have been recovered.
In a syndicated interview broadcast today, parents Martin and Jane Weekes spoke of returning to New Zealand as soon as they sorted out their paperwork.
They hoped to hold a ceremony for their children in Wellington at the end of next week.
In the interview this morning, the Weekes tearfully described their children.
"Lillie was the oldest by one minute, the smallest. People always asked if she was the youngest. It doesn't really make a lot of sense," Mrs Weeks said.
"She was very cuddly and very sweet, but had a bite like a very small rottweiler."
Jackson was "probably a little bit too smart", she said.
Mr Weekes said Jackson would take things apart and put them back together.
"Every morning we'd make coffee. He would go and get a spoon and come and ask for his coffee from my cup."
Mr Weekes said there was "something magical" about Willsher.
"People just want to be with him. He was big and gentle."
Mr Weekes said the couple spent all their time with the triplets.
"We were a family that went everywhere, we travelled the world like Kiwis as family, the five of us. And everywhere we went, people just flocked around the kids. They made everyone happy wherever they went.
"People just would come up in the street, people we'd never met, and just want to be with them, be photographed with them, play with them, talk to them, just touch them. They were very special children."
Qatari authorities investigating the fire expect the first findings in a week, and have promised to set up a committee to monitor safety issues.
Attorney-General Ali Bin al-Marri Fetais yesterday ordered the arrests of the mall's owner, manager, assistant manager, assistant director of security and the owner of the Gympanzee creche. The owner is the daughter of the country's interior ministry.
It was not known whether charges have been laid yet.
Local media have reported the creche may have been unlicensed.
The daily Al Raya said the Social Affairs Ministry had never issued a permit for Gympanzee.
The creche opened in 2009 so it was unclear whether it had been issued a permit by the Supreme Education Council, which managed permits until a few years ago.
Foreign Minister Murray McCully said he was satisfied Qatari authorities were taking the fire seriously and seemed intent to learn lessons from it.
"Obviously the events there have been incredibly tragic and it will be some time before the fact-finding work is completed," he told Radio New Zealand.
"We've been assured by the authorities that there will be a thorough investigation. As you've seen, there have been some moves against individuals that may have been involved already."
Mr McCully said the Weekes had received considerable help from the New Zealand consul in Saudi Arabia, who had travelled to Doha to assist them.
"Obviously there's been quite a lot of work to do in terms of repatriating bodies, dealing with the relatives of the deceased, who have been coming into town as well, and there's obviously always issues around arranging flights out, and the appropriate visa arrangements," he said.
"This is a tragedy and everything that can be done to help this family has been done."

- APNZ