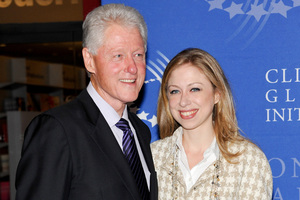 It was billed as the chance to exchange small-talk with Bill Clinton and rub shoulders with glamorous celebrities. But angry guests who attended a London fundraiser for the former US president are to receive refunds after the hosts admitted that the event, described as the "worst party ever", was a total shambles.
Guests paid up to £1000 ($2076) a ticket to attend the party, held at the Old Vic Tunnels, Waterloo. But they complained of huge queues while A-listers were hustled inside and when they finally got in, they encountered overcrowded rooms and perspiration dripping off the walls at a subterranean venue which "stank".
The bash, hosted by Clinton and his daughter Chelsea, was attended by actress Gwyneth Paltrow, model Lily Cole and included a musical performance by Will.i.am.
But furious guests tweeted pictures of a queue of 300 people being made to wait for up to two hours outside. When author Marie Phillips made it past the security she tweeted: "There is literally damp dripping from the ceiling.
Clinton talked about climate change for 30 secs ... WORST. PARTY. EVER. The queue was the highlight. Unbelievable."
The evening was intended to raise funds for the charitable Clinton Foundation, which was later inundated with complaints from friends who found the event "chaotic and overcrowded". Several ticket-holders gave up hope of entry and got taxis home.
Yesterday Phillips said she had received "a polite apology and offer of refund from Clinton Foundation" which she offered to donate to charity.
- INDEPENDENT