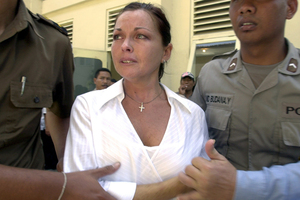 Confusion surrounds the date of release of Australian drug smuggler Schapelle Corby from Bali's Kerobokan Jail following a clemency decree from President Susilo Bambang Yudhoyono cutting five years from her 20-year sentence.
Some media outlets in Australia said on Tuesday that she could be free as early as August. Yesterday, though, that did not look so likely.
While the reduction formally brings her freedom back from 2024 to 2019, Corby has already received two years' remission for good behaviour and further, similar, remissions could mean release within three years.
If Indonesia takes the unusual step of granting parole to a foreigner, the former Gold Coast beauty student could be home much earlier again.
Australian observers are also hopeful that Yudhoyono's mood for clemency may extend to Bali Nine heroin smugglers Andrew Chan and Myuran Sukumaran, at present awaiting execution in Kerobokan.
But Corby's remission scrapes along political sensitivities in both countries, raised in conflicting views of reciprocal prisoner releases, concern in Indonesia that the clemency decree undermines the country's hard line on drug trafficking, and potential tensions over the death penalty.
Australia and Indonesia are also still mired in long-running negotiations over a prisoner exchange agreement in which criminals convicted in one country serve their sentences in their homeland's prisons.
Corby has been at the centre of the two countries' judicial faultline since her arrest at Bali's Denpasar airport in October 2004 with 4.2kg of marijuana packed in a boogie-board bag.
She was sentenced to 20 years' jail in May 2005, sparking outrage in Australia at the severity of the punishment and criticism of the Indonesian justice system, causing deep offence in Jakarta when relations were still fragile after East Timorese independence.
Both the law and public opinion in Indonesia support harsh drug laws and the death penalty for trafficking.
Australia's opposition to the death penalty has also been a thorn in the relationship, especially when Canberra has opposed the execution of its nationals but urged death for the Bali bombers and Indonesians convicted of other acts of terrorism.
Australia has consistently sought clemency for Corby, especially as concerns grew about her mental health.
Indonesia's Minister for the State Secretariat, Sudi Silalahi, said Corby's remission had been granted on humanitarian grounds.
But while the decree had been expected since the Supreme Court recommended a five-year cut to Yudhoyono, there were unusual factors: the President had previously refused to consider clemency for foreign drug traffickers, and Corby had neither admitted guilt nor apologised to Indonesia - both usually required for a decree.
Indonesian ministers have made it clear they consider Corby's remission part of a deal to release young Indonesian people-smugglers from Australian jails.
Yudhoyono signed the decree on May 15; on May 17 three people smugglers were released from jail in Australia and sent home; and on Tuesday the decree was made public.
Sudi Silalahi said Corby's clemency followed a reciprocal arrangement over young Indonesian people smugglers: "It's not just a promise. Many have been followed through and they've already returned," he said.
Law and Human Rights Minister Amir Syamsudin said the move should encourage Australia to release more young Indonesians. But Australian Foreign Minister Bob Carr said there was no formal agreement and the decision to release three minors was made on the merits of their cases.
Under pressure from the Human Rights Commission and the Indonesian Government, Attorney-General Nicola Roxon this month announced a review of the circumstances of 24 Indonesian prisoners who claimed to be minors.
The three released were sent home because of "sufficient doubt" over their ages, but Roxon said their return was not a pardon.
Carr said yesterday the releases followed a very strong case put to him by Indonesian counterpart Marty Natalegawa in March.
"If there were no Schapelle Corby in a Balinese prison we'd still be releasing minors, kids on fishing boats who'd been collected through people smuggling," he said.
Meanwhile, Fairfax reported yesterday a backlash against Corby's early release was beginning.
It quoted Hikmahanto Juwana, an international law expert at the University of Indonesia, as saying the original 20-year sentence had been consistent with the country's strong views on drug smuggling, and should stand.
But Corby's mother, Rosleigh, is hoping her daughter will be home before the end of the year. She told the Gold Coast Bulletin she would go to Bali to bring Corby back to Australia.

BEHIND BARS
October 2004
Schapelle Corby arrested at Bali's Denpasar airport with 4.2kg of marijuana packed in a boogie board bag.
May 2005
Sentenced to 20 years in jail.
May 15, 2012
President Susilo Bambang Yudhoyono signs clemency decree, cutting five years from sentence.
May 17
Three people smugglers released from jail in Australia and sent home to Indonesia.
May 22
Decree made public.