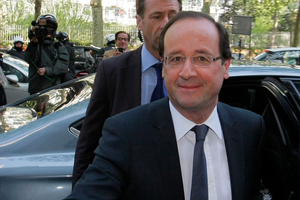 Hollande must unite France as he seeks easing of austerity measures
French voters propelled their country into a new era, facing challenges at home and in Europe, as they chose Francois Hollande as the first Socialist President in 17 years and dumped Nicolas Sarkozy after a single, turbulent term.
In a scenario few would have deemed plausible just a year ago, Hollande picked up 51.56 per cent of the vote against 48.44 per cent for the conservative incumbent.
Hollande, 57, is just the second Socialist in modern French history to take the presidency, one of the most powerful jobs in the world.
Flag-waving crowds gathered at the Bastille, spurring reminders of the all-night partying in 1981 when Francois Mitterrand ended the conservatives' long grip on power.
But France today feels divided and poorer compared with 31 years ago, and the economic and welfare system promoted by Mitterrand is creaking loudly. Hollande has no room for triumphalism or ambitious change, and faces an immediate task in rallying Europe behind his plan to ease the constrictive belt of austerity.
In his acceptance speech, Hollande voiced his respect for the defeated Sarkozy, stressed patriotism and the need to overcome division.
"I will be the president of all," he said. "There is only one France, only one nation, which is united in the same destiny ... I know we are able to overcome all these challenges."
Jocelyn Evans, a professor of politics at Britain's University of Salford, said: "Hollande must now unite the French people in the next few weeks, to show that he is not a partisan president. Given the divided nature of the country which has manifested itself during the campaign, this will not be an easy task."
Hollande, balding and myopic, hails from the rural southwestern department of the Correze, where he is an MP, and is a graduate of the country's elite schools.
He has never held high public office, and his biggest job has been secretary of the Socialist Party. He had the reputation for being dominated by his ex-partner, Segolene Royal, who is the mother of their four children and was defeated by Sarkozy in the 2007 elections. His nickname is "Flanby", after a soft, bland caramel dessert.
But Hollande's image as Mr Normal served him well with a public yearning for stability after the yo-yo personality of Sarkozy. And he showed teeth during a one-on-one TV debate with the incumbent, pleasing many. "No one would have put money on him 15 months ago," said Eric Donfu, a sociologist in Paris. "This is his revenge."
Hollande will have to return to the campaign trail, for there are elections to the National Assembly next month. His goal will be to overturn the legislature's conservative majority to avoid having to share power.
Sarkozy becomes the first French president since Valery Giscard d'Estaing in 1981 to fail to win a second term in office.
He went out of his way to include Socialists and centrists in his government. But he blew away his political capital with a sharp tongue and glitzy lifestyle, shocking a public used to low-key, avuncular heads of state.
In the election campaign's final fortnight, Sarkozy's attempts to win over far-right voters by attacking immigration alienated many centrists and sowed the seeds for strife within his UMP party after the defeat.
Sarkozy came to office in 2007, promising to free up France's economy and generate wealth, only to be hit the following year by the banking tsunami. It transformed the liberaliser into a Keynesian, who borrowed hugely to sustain growth and only belatedly tried to tighten the belt.
Ten per cent of the workforce is without a job, and business morale is in the basement. Under Sarkozy, French debts ballooned by between €500 billion ($820 billion) and €600 billion. Next year, the country must finance or repay €300 billion.
Sarkozy is now the latest European head of government to be dumped because of Europe's crisis, following those of Ireland, Greece, Italy, Portugal, Spain and the Netherlands.
The juggling act is now handed over to Hollande, who has added several more balls to the performance.
Hollande has vowed to create tens of thousands of jobs in education, create 150,000 jobs for apprentices and offer incentives to help keep half a million older workers on the payroll. At the same time, he has promised to reduce France's budget to zero by 2017.
One of Hollande's first tasks will be to gather the rest of the 27-nation European Union behind him.
Hollande wants to rework the European fiscal pact laboriously crafted by Sarkozy and German Chancellor Angela Merkel last year that hauled the euro back from the cliff edge. He wants it to include proposals by which European institutions spur growth by financing infrastructure projects.
Merkel frowns on any rewriting - especially if the growth stimulus means pooling debt, and thus boosting the risk for German taxpayers.
German Foreign Minister Guido Westerwelle yesterday hailed Hollande's victory as a historic event and said "we will work together for a growth pact", but did not give specifics.