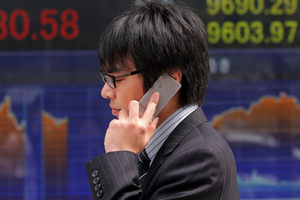 The jury is still out on mobile phone health risks. Picture / AP Allegations of bad science, not enough science, conflicts of interest, political inertia, scaremongering, lobbying and lawsuits: the debate about the safety of mobile phones has it all.
With more than 5 billion in use worldwide, mobile phones have become central to modern life, but could they be a health hazard?
Scientists at the Children with Cancer conference in London this week called for governments to adopt the "precautionary principle" - advising users to take simple steps to protect themselves and children from potential and not proven health risks of electromagnetic fields - especially head cancers.
They called for urgent research into new Office of National Statistics figures that suggest a 50 per cent increase in frontal and temporal lobe tumours - the areas of the brain most susceptible to the electromagnetic radiation emitted by mobile phones - between 1999 and 2009.
In Britain, MP Caroline Lucas will next week table an Early Day Motion calling for mandatory safety information at the point of sale, and for widely publicised advice, for young people in particular, to text, use headsets or corded landlines for long calls.
Britain's Department of Health has a confusing online-only leaflet which states there is no immediate concern but under-16s should be encouraged to minimise phone use and choose hands-free kits or texting.
France has banned phones from primary schools and advertising targeted at children, and companies must provide headsets. Israel recently became the latest of a small but growing number of governments to require by law all mobile phones and adverts to come with a health alert: "Warning - the Health Ministry cautions that heavy use and carrying the device next to the body may increase the risk of cancer, especially among children." The law, which has passed its first reading, seeks to ban companies from marketing to children.
An attempt by San Francisco's politicians to require similar health warnings is being vigorously fought by the industry. Professor Darius Leszczynski, from the Radiation and Nuclear Safety Authority in Finland, has warned about possible health hazards for more than a decade. He was one of 30 experts at the International Agency for Research on Cancer, the global authority on cancer risks, who concluded mobile phone radiation is "possibly carcinogenic".
- Independent