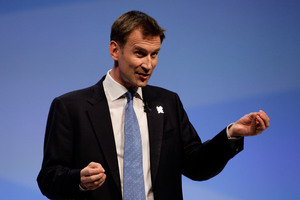 Britain's Culture Secretary, Jeremy Hunt, was battling to save his political career after it was revealed that his office was secretly passing information to the Murdochs during their £7.5 billion ($14.9 billion) bid to take over BSkyB.
Hunt faced demands for his resignation after hundreds of pages of explosive emails, released by News Corp to the Leveson Inquiry, showed that his political advisers engaged in intimate and frequent briefing of the Murdochs' chief lobbyist to help get the deal through - despite Hunt's claim to have acted impartially in his exercise of quasi-judicial powers.
Leader of the Opposition Ed Miliband said the disclosures made Hunt's position untenable: "Jeremy Hunt should have been standing up for the interests of the British people. In fact it now turns out he was standing up for the interests of the Murdochs. He should resign."
Downing Street said Prime Minister David Cameron supported Hunt but pointedly did not express confidence in the process followed by the Department of Culture in deciding the bid.
Hunt said he had to bring forward his evidence to the Leveson Inquiry to clear his name. "Now is not a time for knee-jerk reactions," he said. "Let me be clear my number one priority was to give the public confidence in the integrity of the process. I asked for advice from independent regulators - which I didn't have to do - and I followed that advice to the letter.
"I would like to resolve this issue as soon as possible which is why I have today written to Lord Justice Leveson asking if my appearance can be brought forward. I am very confident that when I present my evidence, the public will see that I conducted this process with scrupulous fairness."
One email quoted Hunt saying "we'd get there in the end" and that he "shared" News Corp's objective of taking over the broadcaster.
Another email, sent by News Corp's lobbyist the day before Hunt made a statement to Parliament on the bid, drew gasps when it was read out at the inquiry: "Managed to get some infos on the plans for tomorrow (although absolutely illegal ...! )"
In a day of dramatic revelations at the inquiry, where James Murdoch gave evidence under oath, it also emerged that:
* Murdoch did discuss News Corp's bid for BSkyB with Cameron over Christmas dinner at the Oxfordshire home of Rebekah Brooks - contradicting Downing Street's previous denials.
* Emails sent by James Murdoch's lobbyist Frederic Michel show that Hunt's office would regularly update News Corp on the progress of its bid and how to get it past the regulators - sometimes speaking several times a day, and once even delaying the Culture Secretary's trip to the ballet.
* The Scottish First Minister, Alex Salmond, showed enthusiasm in supporting the bid. The emails suggest he linked his backing with a request to Murdoch to "smooth the way" for the Sun newspaper to support the Scottish Nationalist Party.
* News Corp threatened Hunt that it would withdraw the bid if he did not hurry things along. "JH repeated he was definitely keen to see this through as quickly as possible."
The emails directly contradicted assurances that Hunt had given the House of Commons that he was acting as an independent adjudicator of the bid in a quasi-judicial role, Labour said.
Miliband, the Labour leader, and his deputy Harriet Harman called on Hunt to resign.
The Prime Minister will also now face awkward questioning at the Leveson Inquiry over his discussions with James Murdoch about the BSkyB bid during a Christmas dinner at the home of Rebekah Brooks in December 2010, after James Murdoch contradicted the claim of Cameron's official spokesman that "he [Cameron] has not been involved in any of the discussions regarding BSkyB, he has been absolutely clear on that".
The emails also shed light on the extensive and unsuccessful efforts the firm undertook to lobby the Business Secretary, Vince Cable, to approve the deal, before he was stripped of responsibility.
In one email, Michel, News Corp's director of public affairs in Europe, suggests using the editor of the Times, owned by News International, to get to see Cable after he had refused to meet with the company.
"We should try a very soft approach with him; get him to meet with James Harding ... It would be a much better setting than a direct lobbying conversation."
Hunt told the Commons in June 2011: "I am deciding this deal on a quasi-judicial basis, but I have not met Rupert Murdoch or James Murdoch in recent weeks, and all the meetings I have had with them have been minuted and done through official channels."
Email cache demonstrates ongoing ties
Key emails from the News Corp cache
November 15, 2010: Call on mobile
As storm clouds gather over the deal because of rising opposition from other media groups and politicians, Frederic Michel tells James Murdoch that Jeremy Hunt is keen to keep channels open.
"Jeremy tried to call you. He has received ... legal advice not to meet us today as the current process is treated as a judicial one (not a policy one) and any meeting could be referred to and jeopardise the entire process. Jeremy is very frustrated about it ... My advice would be not to meet him today as it would be counter-productive for everyone, but you could have a chat with him on his mobile which is ... fine, and I will liaise with his team privately."
Shortly afterwards, Murdoch replies: "You must be f***ing joking. I will text him and find a time."
December 14, 2010: Support voiced
The announcement by Ofcom of the "issues" it will seek answers to from News Corp before reaching a decision on the BSkyB proposal is matched by reassurances from inside the Cabinet.
"Very good debrief with Hunt on the issues letter. He is ... amazed by its findings, methodology and clear bias. he ... shares our views on it."
December 24, 2010: Stay in touch
After the Daily Telegraph revelation that Business Secretary Vince Cable has "declared war" on Rupert Murdoch, he is removed from deciding the BSkyB bid and responsibility passes to Hunt. But contact between Hunt and his office and Murdoch and News Corp does not end.
From Michel to Murdoch: "Just spoke to JH. Said he was very happy for me to be the point of contact with him/Adam [Smith] on behalf of JRM going forward. Very important to avoid giving the'anti' any opportunity to attack the fairness of the process ... "
January 23, 2011: 'Game over'
An increasingly confident News Corp senses victory after Hunt signals to Michel support for "UILs" (undertakings in lieu) to seal the BSkyB deal.
"[Hunt's] view is that once he announces publicly he has a strong UIL, it's almost game over for the opposition ... He very specifically said he was keen to get to the same outcome and wanted JRM to understand he needs to build some political cover on the process."
January 24, 2011: 'Bloody illegal'
Michel tells Murdoch he has had prior notification of a Hunt announcement on the handling of BSkyB deal. "Managed to get some infos on plans for tomorrow [although absolutely illegal ... !]
June 30, 2011: 'Idiotic debates'
Michel updates Murdoch: "Had a debrief with JH [Hunt] and his team ... He is very happy with the way today went and especially with the absolutely idiotic debates led by [Labour MP] Tom Watson and [John] Prescott."
July 7, 2011: Milly Dowler hacking
After the revelation by the Guardian that the News of the World hacked the phone of Milly Dowler, leading to its closure, Michel insists Hunt and his team see no reason to change their stance on BSkyB.
"Spoke to JH. V important to keep same briefing lines as discussed and insist on the plurality issue."
- Independent