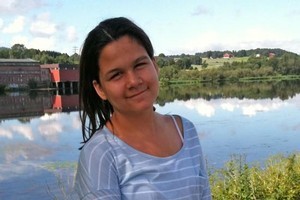 The mother of a New Zealand-born girl killed in last year's Norway massacre says the pain of watching Anders Breivik's trial is "nothing in comparison to the pain" her daughter went through.
Breivik is on trial for the murder of 77 people in Oslo and nearby Utoya Island on July 22 last year.
Vanessa Svebakk, the mother of victim Sharidyn Svebakk-Bohn, has been present in court for each day of Breivik's trial, which started last week.
Sharidyn was 14 when she was killed, the youngest of all the victims.
Mrs Svebakk told Radio New Zealand she has taken a photo of her daughter with her into the court room each day.
"I sit and I look at her photo so I don't have to look at the man. And while I look at the photo I think about the story behind the photo and the story behind the photo leads me to remember other memories that we have from our life with her the last 14 years."
She says the trial is a reminder of the "excruciating pain" she experienced in the wake of the massacre.
"The trial isn't about my daughter and the others that died on the 22nd of July, the trial is about the man that murdered them. And the only way I can make the trial about, for example, my daughter, is for me as a mother to represent her in court," Ms Svebakk says.
"I keep thinking that the pain, the excruciating pain that my daughter went through in those minutes, or however long it took before she took her last breath... I have to be able to cope with the pain that I am bearing listening to him, because that is nothing in comparison to the pain that she went through.
Ms Svebakk believes the court case will leave her with more questions than answers.
"I'm not following the court case to figure out what's in his head or why he did what he did or perhaps even to gain more knowledge as to what happened to my daughter because we have come to a point where there is some information we will never know. That information died with her that day.
She describes her daughter as kind, loving, attentive, and someone who tried everything.
Ms Svebakk was hopeful Breivik, who has admitted to the killings but claims self-defence, would be convicted.
"There isn't any punishment that can give me my daughter back, but knowing that he has been convicted of her murder will in the very least give us the chance to be able to rebuild the lives that were irreversibly changed on the 22nd of July."