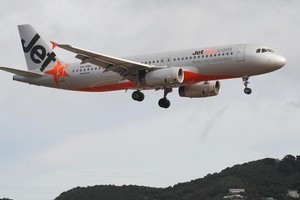 A Jetstar pilot was distracted by his mobile phone when he forgot to lower the aircraft's wheels on approach to Singapore, pulling up only 150m above the ground, according to investigators.

The Australian Transport Safety Bureau found problems began just after the autopilot on Flight JQ57, from Darwin to Singapore on May 27, 2010, was turned off as it began its descent to land at Changi International Airport.
The investigation found the captain's phone started receiving messages between 2500 feet and 2000 feet, and he failed respond twice to the first officer's requests. The first officer told investigators the pilot was preoccupied with his phone, while the captain said he was trying to unlock the phone to turn it off, which he had forgotten to do prior to take-off.
At about 1000 feet the first officer scanned the cockpit instruments and said "something was not quite right" but could not identify what it was.
At 720 feet a cockpit alert warned that the wheels were not down. At about 650 feet the landing gear was brought down. The captain told investigators he "instinctively" reached out and "selected gear down" after hearing the warning.
This confused the first officer, as the captain was preparing to "conduct a go around" - ascending and re-approaching for landing.
However neither the captain, nor the first officers, communicated their intentions at that time.
The aircraft descended to 500 feet, with the landing gear still not fully down. It was not until 392 feet that the aircraft ascended to make the go around, although both crew members told investigators they thought they were at 800 feet when the landing was aborted.
The A320 aircraft climbed to about 2600 feet, before making a successful approach and landing.
The report said the incident was discussed with the flight crew and the captain.
"The possibility of the crew being tired was raised; however, based on the information provided by the crew, there was no indication of their being fatigued. The crew resumed duty and flew the next sector from Singapore to Darwin," the report said.
The pair were both experienced, with the captain having about 13,431 hours experience, and the first officer having 4,097 hours.
Phone records showed the pilot had not responded to any of the text he had received during the approach.
Jetstar told the Melbourne Age it had taken on board the lessons learned from the incident and incorporated them into its pilot training, including a reminder about cell phones being switched off on approach.
"Pilot distraction meant all the landing checklist items weren't completed before the aircraft passed an altitude of 500 feet, at which point a go-around was required under our operating procedures," Jetstar's Chief Pilot, Captain Mark Rindfleish, told the paper.
"The combination of factors on JQ57 has provided new learnings and the opportunity to add to these safeguards, which we take very seriously."