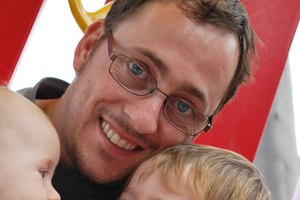 It is a sequence of events that has become depressingly familiar in Western Australia - a fatal shark attack, followed by demands for a cull and, finally, a reality check.
At the weekend the WA Premier, Colin Barnett, delivered the reality check after the death of a local diver, Peter Kurmann.
"West Australian people love their beach, but they know there's always that hidden danger," Barnett told ABC radio. "While it's still a rare occurrence, the ocean is the domain of the shark, and we go there with a risk always."
Kurmann's death was the fourth in WA waters in seven months.
The 33-year-old businessman and father of two young sons was diving for crayfish off Stratham Beach, 230km south of Perth, when a 4m shark - believed to be a great white - attacked him on Saturday morning. His brother, Gian, who was with him, recovered his mauled body from the water with help from a nearby boat.
The Department of Fisheries said yesterday that an aerial patrol had spotted a shark of a similar size south of the attack site, and a boat equipped with capture gear had been sent. But officials had not received orders to kill the shark, although Barnett did not rule that out, saying public safety was paramount, particularly if the culprit was "an old shark or one that's close to swimming areas".
In February, after three fatal incidents within two months, WA was rated the most dangerous place on the planet for shark attacks, accountingfor one in four deaths worldwide last year. A 21-year-old bodyboarder, Kyle Burden, was killed off Bunker Bay, in the state's southwest, in September; the following month, Bryn Martin, 64, died off Perth's Cottesloe Beach; and a 32-year-old Texan, George Wainwright, was fatally mauled while scuba diving off Rottnest Island, near Perth. On average, there is one shark death a year in the state.
Following the spate of attacks, the WA Government rejected demands for a shark cull, but announced nearly A$14 million ($17.7 million) to boost beach patrols and shark-related research. It also set up a Shark Response Unit to investigate the effectiveness of shark nets, repellent devices and an SMS warning system.
Yesterday there were renewed calls for a cull, particularly from the tourism industry, which says that visitors are staying away from the southwest. But although great whites are believed to be responsible for all the recent deaths, experts say there is no evidence that population numbers are increasing, or that one or more "rogue" sharks are active off WA. Like other shark species, the great white is classed as vulnerable by the International Union for Conservation of Nature.
Kurmann leaves behind his wife, Debra, and two small boys: Felix, 4, and 2-year-old Nicholas. Gian Kurmann, 34, said in a brief statement: "Our family has suffered a terrible loss. We have lost a son, a brother, a husband and a wonderful father. Words cannot express how we feel at this time."
The Kurmann brothers were diving off a boat anchored about 1.6km off Stratham Beach. Gian Kurmann reported seeing a "dark, shark-like shape" in the water. The popular beach was closed yesterday.