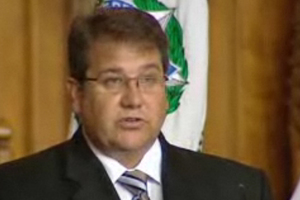 Australia is investigating claims that one of its aid workers in southern Afghanistan was seriously injured by a 12-year-old suicide bomber targeting Westerners in revenge for the massacre of 17 villagers by an American soldier.
David Savage, 49, a former Federal Police agent whose experiences in East Timor inspired a television mini-series, was yesterday reported in a serious but stable condition at a German hospital. He is Australia's first civilian casualty in a war that has killed 32 Diggers and injured 218 others.
The bomb that injured Savage also killed three United States soldiers and wounded an Afghan National Army soldier. It exploded as the men left a village meeting in the Chora Valley, north of the Uruzgan provincial capital of Tarin Kowt.
International Security Assistance Force Deputy Commander Colonel Ben James told Fairfax that soldiers in the US patrol protecting Savage saw a boy wearing loose robes and a head covering run towards then before a bomb he was apparently wearing detonated.
"It appears that the patrol was approached by an Afghan civilian estimated to be about 12 years old," James said. "The boy came into the middle of the patrol and detonated the device."
A Taleban spokesman was reported as saying the attack was part of a coordinated campaign of revenge that had also included the killing of two British troopers this week by a rogue Afghan army soldier.
The spokesman said the bombing was in retaliation for the killing by US army Staff Sergeant Robert Bales of 17 Afghans, including nine children, in Kandahar province this month. Bales has been charged with premeditated murder, attempted murder and assault.
The apparent attack by a 12-year-old follows other cases of child suicide bombers in Afghanistan, and the arrest of two teenagers this week who police allege had been planning a suicide attack on one of its senior officers in Uruzgan.
Defence Minister Stephen Smith said there would be an "exhaustive assessment" of the claim Savage was attacked by a child suicide bomber.
"The use of children in such matters, if it has occurred in this instance, is absolutely contemptible," he told ABC radio. "We've seen in the past Taleban using children of very early ages to engage in such activities and we treat that with nothing but contempt."
Chief of Joint Operations Lieutenant General Ash Power later confirmed that a child was believed to be responsible for the suicide attack.
"Exploiting a child to act as a suicide bomber is deplorable," he said.
Smith said it was too early to confirm that Savage had been targeted in revenge for the Kandahar massacre, and that security measures for Australian aid workers would be reviewed. Savage was protected by US troops assigned by IAF rather than Australian soldiers.
Savage's family said he had been helping local communities to rebuild and take control of their lives.
"David's career as a member of the AFP, a United Nations peacekeeper and now a member of the Australian Civilian Corps is an indication of his strong commitment to helping people in need," the statement said. "That he should be injured while trying to help people is a difficult thing for us to understand."
Savage gained earlier fame with a book on his time in East Timor during the violence of independence, inspiring the ABC mini-series Answered by Fire.
Foreign Minister Bob Carr said the difficulties aid workers faced emphasised their "sheer public spiritedness, idealism and keenness to service".
Australia has about 20 aid workers in Afghanistan as part of a programme that has pumped almost A$420 million ($510 million) into the country in the past three years. But the Opposition this month said Australia needed to do more, calling for a "dramatic increase" in its civilian commitment.