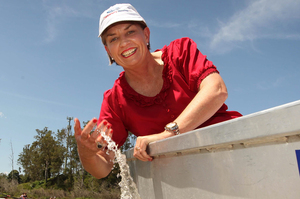 A weighty majority of Queensland voters will arrive at polling booths across the state today with one thought on their minds: get rid of Premier Anna Bligh and more than two decades of Labor rule.
In an election largely about who voters do not want rather than a clear preference for the Opposition, the Liberal National Party is expected to win by a landslide that could leave Labor with as few as a dozen MPs in the 89-seat Parliament.
LNP leader Campbell Newman, who gambled on victory even before earning a seat, now appears almost certain to win the Brisbane electorate of Ashgrove after a reversal in polls that previously placed him behind Labor incumbent Kate Jones.
Federal north Queensland MP Bob Katter's new Australia Party also seems set to overtake the Greens as the state's third political force, adding a new and volatile dynamic to the mix.
And while state elections have little impact on federal politics, the kind of defeat facing Bligh today will reverberate through Canberra, where Prime Minister Julia Gillard's Government is planning for next year's showdown with Tony Abbott's Coalition Opposition.
Gillard took a heavy hit in the northern state in the 2010 election, remains hugely unpopular for her knifing of predecessor Kevin Rudd - a Queenslander - and faces continued hostility that could presage next year's mood.
Abbott is already working on the prospect, declaring today's election a referendum as much on federal Labor as the state Government, and on Gillard's new mining and carbon taxes.
Even without Abbott's heckling, an LNP victory would leave Gillard with conservative governments in Australia's four biggest and wealthiest states.
All states, including Labor administrations, can be wilful in their dealings with Canberra, but Liberal-led New South Wales, Victoria and Western Australia have clearly shown their willingness to rock the boat on such policy areas as national health, education and training reforms.
WA, especially, has signed up with opponents of the carbon and mining taxes and has said it will "intervene" in support of proposed constitutional challenges by big miners. A Queensland under Newman and the LNP would likely be as truculent.
Opinion polls have clearly shown the mood of voters.
Bligh's stocks rose after her handling of last year's floods and Cyclone Yasi, but dived again as the months wore on and frustration grew at unpopular asset sales, her management of an economy that lost Queensland its Triple A rating, the axing of the state's petrol subsidy and problems within the health system.
She also faces voter fatigue: Labor came to power in 1989, lost it for 28 months in the late 1990s, then resumed its run with the election of Peter Beattie in 1998 and his handover to Bligh in 2007.
Two years later she became the first woman to win a state election, but faced both rising dissatisfaction with Labor and the resurrection of the Opposition with the merger of the Liberal and National parties and the installation of Newman as its leader.
Newman, a former popular Lord Mayor of Brisbane, faced his own problems.
Until cleared by the state's Crime and Misconduct Commission he faced a damaging attack in his financial affairs and alleged "dodgy deals" during his mayoralty, and was struggling to secure the Ashgrove seat.
While pollster Gary Morgan says his surveys indicate the huge swing to the LNP is more rooted in disappointment with Labor than huge positive regard for Newman and his party, the Opposition appears to have government in the bag.
The latest Morgan poll said Newman was the clear preference as Premier, and that the LNP leads Labor 62-38 per cent in the two-party preferred vote that will decide the outcome.
The most recent Newspoll and Galaxy polls have shown similar results.
The final composition of the Parliament is less certain, with present independents and the advent of Katter's party - which already has two seats through the defection of LNP members and which may split the conservative vote in some seats.
Both sides have been hammering voters with promises during a gruelling campaign that continued until the last gasp and has seen Bligh increasingly falling back on the politics of fear.
Newman, who has released an action plan for his first 100 days in office, urged voters to dump Bligh: "They won't be changing Queensland unless they actually make the decision to vote the Labor Party out of office and vote for my LNP team."
The LNP has targeted Labor's power base in greater Brisbane and on the Gold Coast.
Yesterday, Bligh seemed resigned to her likely fate.
"Whether or not you can defy gravity a third time is a pretty tough call," she told ABC radio.